By Alex Leff , GlobalPost

TURRIALBA, Costa Rica — For generations, coffee and sugar cane have kept many of the working people employed in this charming village plopped amid lush green mountains and the smoke-spewing Turrialba volcano 33 miles east of San Jose.
Now a new Firestone air springs plant has opened up, which locals hope will slow the flight of many of the area's nearly 80,000 inhabitants seeking work elsewhere.
TIP: Get our latest content by joining our newsletter. Don't miss out on news that matter in Costa Rica. Click here.
However, as the globalization game often plays out, what goes up in one town must come down in another.
This time the one going down is in Noblesville, Ind. In June 2008, managers at the 63-year-old Firestone plant outside Indianapolis announced they were shutting down — another casualty of the ailing auto industry.
The Indiana plant employed more than 200 people, but this year phased out production and cut jobs in three separate waves, according to Tim Cottrell, president of United Steelworkers of America Local 138 in Noblesville.
Firestone has been transporting the machinery over to other product plants in Williamsburg, Ky., and Dyersburg, Tenn., as well as to the Turrialba plant — which was inaugurated in April and is set to employ about 130 people, said plant manager Alvaro Murillo.
This could become a trend.
The computer chip giant Intel, which already manufactures at least 20 percent of Costa Rica's exports, could be expanding this year to absorb production from plants that are being shuttered in the U.S. and Asia, according to business weekly El Financiero.
And these are not the only multinationals to set up shop in Costa Rica.
Over the past decade, stable politics and a highly qualified but low-paid labor force have helped turn Costa Rica into a prime location for foreign companies. Businesses including Hewlett Packard, PricewaterhouseCoopers and a host of major medical suppliers and outsourced call center operations have opened offices here — more than two dozen new ones a year, according to the Costa Rican Investment board (CINDE).
These businesses, along with revenue from tourism and real estate, are part of what makes Costa Rica a leader in Latin America in terms of per capita foreign direct investment (FDI) — considered an important bloodline for developing nations. Last year Costa Rica's FDI topped $2 billion.
But the global crisis is slowing FDI considerably. The U.N. Economic Commission on Latin America and the Caribbean forecasts as much as a 45 percent drop in foreign investment in Latin America this year. Costa Rica could see inflow drop by about a third in 2009, according to the Central Bank.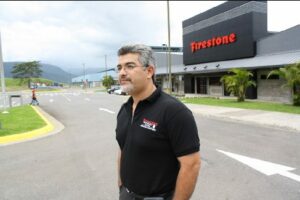 Raising further alarm in some business quarters, in early May U.S. President Barack Obama announced an overhaul of the nation's international tax code, which could help plug up the movement of jobs overseas.
The Costa Rican Investment Board (CINDE) said it's keeping a close watch.
"We will be following the measures announced by Obama carefully to have a clear idea of their implications and real impact on FDI coming into Costa Rica and for companies already set up here," said CINDE's general director Gabriela Llobet.
Yet, Firestone and possibly Intel are still investing in the country.
Beyond the big numbers, impacts are often noticed at a micro level.
Locals in Turrialba point out that the air springs plant opening is a boon for an area that's become a sleeper town for the many commuter residents who would rather travel nearly two hours by bus each way to the capital than toil in their region's coffee and cane fields, or work in tourism.
"Buses leave at 5 and 6 in the morning. It's an exodus to San Jose for work," said Paulo Acuna, 29, who had just interviewed for a technician job at Firestone in the hopes of working closer to his pregnant wife and 6-year-old son.
President Oscar Arias attended the grand opening, hailing it "a significant boost to the growth of our exports" — in the first four months of the year exports fell 15 percent below the total during the same period in 2008.
"I'm very glad that Firestone has come to manufacture air springs in Turrialba, since they're showing the trust they have in Costa Rica," Arias said. "This plant was in Indianapolis and they brought it because certainly the cost of production is lower in Costa Rica, but overall it's important for a (region) like this, depressed in terms of employment."
The Indianans aren't celebrating.
After learning of the plant's June 26 shutting date, employee Kevin Brown told Indiana's Wish-TV news, "When you're my age, I'm 50 years old, and too old to go back to school. It's a worry. It takes a toll on the family. I've got kids. Reality's starting to hit right now." (See the complete local Indiana news report here.)
Cottrell, the union leader, told GlobalPost in a telephone interview the move didn't come as a shock. "(Firestone) threatened to close 26 years ago. We knew it was just a matter of time," he said.
He added the closure is a show of "corporate greed," alleging Firestone made the switch for cheaper labor.
But a few years ago, Turrialba was the Noblesville in the relationship. According to the plant manager Murillo, the factory lot's predecessor was hair products manufacturer Conair, which closed shop years ago, shedding some 700 Costa Rican jobs, to open operations in China.
And so the story goes. Now, in addition to the bananas and pineapples you eat, there's a good chance the microchip in your computer, the opinion pollster calling your telephone, and soon, the air springs in your bus will have been made in Costa Rica. For many workers in America, it will sting. But for the folks in towns like Turrialba, it could mean a new lease on life — that is, perhaps, until the plant picks up and finds a new location.
As for the out-of-work Indianans, Cottrell said many are already undergoing training and receiving federal trade adjustment assistance to find new jobs. When asked how the workers will get on, the union leader said, "We'll come out swinging. We always do."