To compliment Germany's commitment to environmental issues,the German Development Minister arrived at Costa Rica to commence a three-day visit to discuss trade and promote environmental conservation and renewable projects with Costa Rica.
Niebel with a delegation of 27 people including representatives of German renewable energy and sustainable tourism businesses started with going to see a wind power park in Valle Central and Fonafifo.
TIP: Get our latest content by joining our newsletter. Don't miss out on news that matter in Costa Rica. Click here.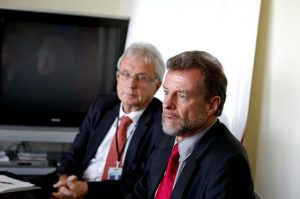 The Minister said Germany will continue to support proposals for education,economic cooperation and development of the environment at a joint news conference with Costa Rican Foreign Minister Enrique Castillo.
Niebel's agenda included visits with Costa Rican President Laura Chinquilla and Environment Minister Rene Castro. Niebel's Costa Rica trip is a part of a tour of Germany's Latin American trade partners.
EU nation has said that it was willing to partner across the globe on international green projects.
Germany is Costa Rica's most important commercial partner within the European Union.
Bilateral trade between Costa Rica and Germany reached $382 million dollars in 2010.
Germans are major buyers of Costa Rican bananas, coffee and pineapples.
Costa Rica imported machinery, chemical products and pharmaceuticals.
Approximately 50,000 German tourists visited Costa Rica in 2010.