Epic Locations Combining Wellness, Adventure, and Natural Surroundings
Corporate travel is making a comeback, and small resorts around the globe are incorporating company retreats into their program. More and more businesses these days recognize that happier, healthier employees lead to greater levels of cooperation, communication, and creativity within a company. From the mountains of France to the pristine beaches of Costa Rica, these resorts are going beyond the standard ropes course to elevated itineraries ranging from yoga and meditation classes to culinary contests, to team building activities that actually work.
Below are our top five small corporate retreat venues from around the world. We've handpicking these boutique destinations because they specifically cater to business groups, while also providing wellness opportunities and outdoor activities.
La Clairière – Alsace, France
http://www.la-clairiere.com/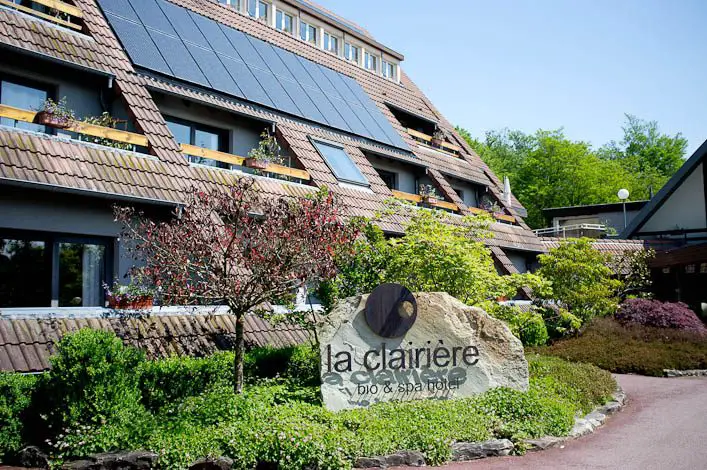 Nestled within the beautiful, protected area of Northern Vosges Regional Nature Park, this area's rich natural landscape has been added to the UNESCO list of international biosphere reserves. The aim of the resort is to be in "complete harmony with its sylvan surroundings," and many guests report that the environment helped raise their energy levels as well as inspiring them to adopt a healthier lifestyle.
La Clairière is not simply hopping on the corporate retreat bandwagon either: they have a long history of hosting well-being seminars specifically aimed at corporate guests. They have a Challenge Course right on property that has problem solving activities prompting guests to take mental and emotional risks. The seminar itself incorporates themes like work-life balance, stress management, voicing your opinions, and healthy eating. La Clairière has a beautiful conference room and exceptional organic cuisine, making it a great venue for your next corporate retreat aimed at employee wellness.
Blue Osa, Puerto Jimenez, Costa Rica
http://www.blueosa.com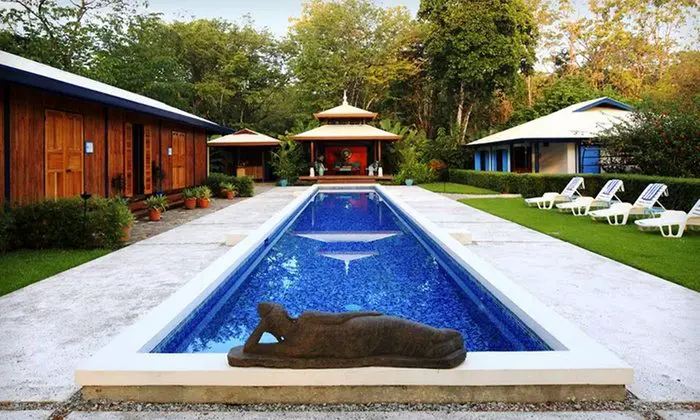 Located on the pristine shores of the Osa Peninsula, Blue Osa is a beachfront resort that is perfectly situated to offer a wide array of team building experiences in the rainforest just minutes from the resort. Ziplining, waterfall rappelling and surfing lessons are all activities that the Blue Osa staff can customize for your team to create lasting bonding experiences away from the workplace.
The resort features a beautiful open-air meeting space with views of the turquoise sea of Golfo Dulce. Many corporate groups incorporate activities such as yoga, mindfulness and meditation to help refocus their team's energy and provide a healthy balance between meetings and strategizing. This boutique eco resort has a fantastic staff of local workers who will help to customize your experience and give you the inside scoop on all the best team building activities that the Osa Peninsula has to offer.
Como Uma, Ubud, Bali
http://www.comohotels.com/umaubud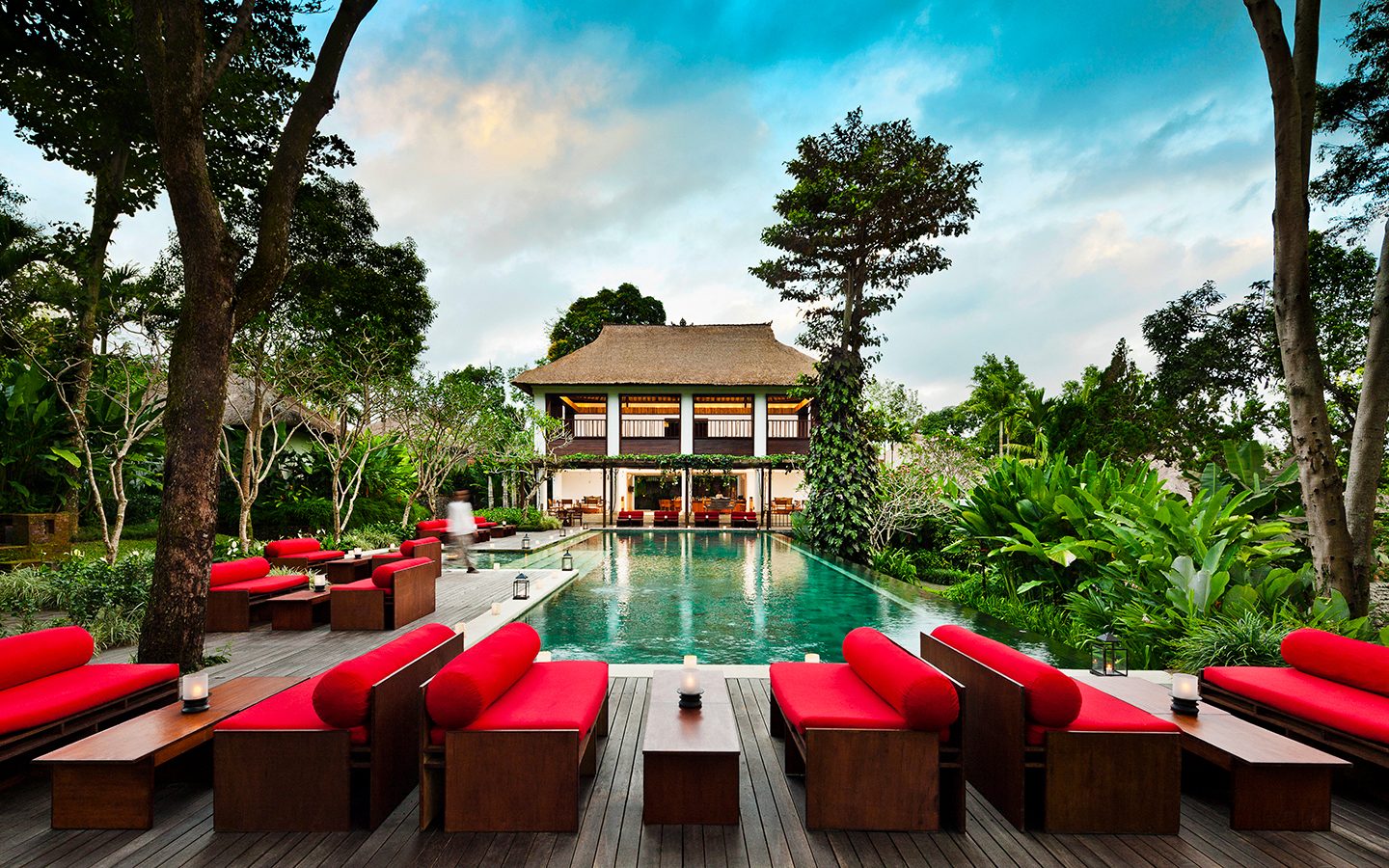 Surrounded by natural forests, rice paddies and rivers, Coma Uma is located in an artist town where you can hear the sounds of Hindu ceremonies coming from temples in the distance. An onsite retreat center offers yoga and Asian inspired therapies, and the cuisine focuses on fresh ingredients and authentic Balinese recipes.
Meeting facilities include a conference room that can accommodate up to 20 people, equipped with the latest technologies, as well as a yoga pavilion and yoga studio for larger gatherings. Your employees will enjoy guided walks through local villages and jungle gorges, mountain biking, temple visits and even whitewater rafting.
The Wild Lodge – Prachin Buri, Thailand
http://www.thewildlodge.com

Located on the pristine southern slopes of Khao Yai National Park, The Wild Lodge is both an eco resort and an outdoor center specializing in corporate team development. The lodge acts as a base camp for outdoor adventure activities, which provide a shared learning experience where your team must come together in an unfamiliar environment to succeed. Onsite activities include both an aerial and low ropes course, a rafting construction challenge where the group must collect boat materials and build a floating craft to set sail on the lake, and group navigational challenges up mountains and through the jungle.
The lodge was built as an outgrowth of an already successful adventure company, so exploration and team building are at the forefront of this lodge's mission. The buildings were constructed using reclaimed hardwoods, sustainable and re-used materials and the skills of local people. While this eco resort does not offer five-star luxuries, it provides the peace and tranquility of rivers, lakes and trails only 90 minutes from Bangkok's International Airport.
Kalani – The Big Island, Hawaii
https://kalani.com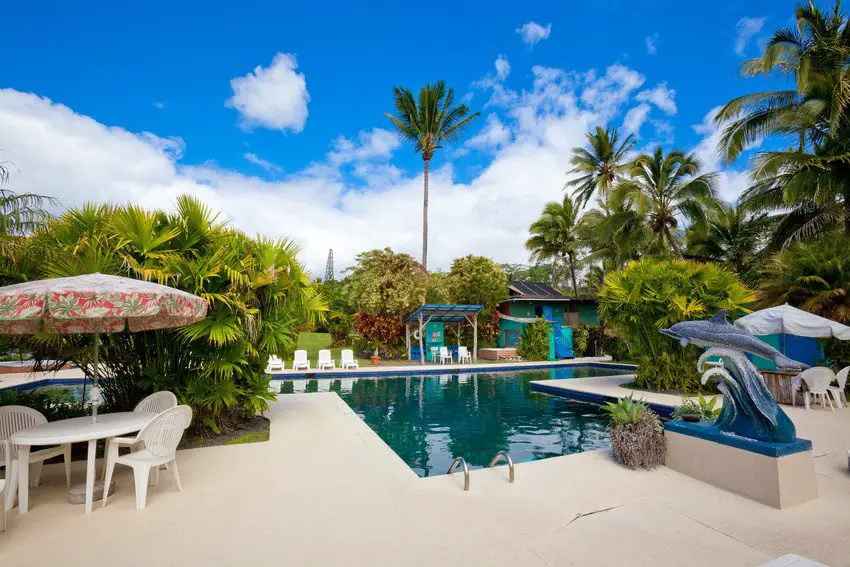 Kalani celebrates Hawaiian culture as well as healthy lifestyles and transformative experiences. They have been hosting retreats and workshops for 25 years and offer a "serene and blissful" environment for your co-workers to enhance communication and teambuilding. They are located just 45 minutes from the airport in Hilo or two and a half hours from the airport in Kona on the Big Island of Hawaii.
Kalani has five large community gathering spaces for activities and meetings and offers panoramic views of the ocean, which is just a 20-minute walk down the road. There are literally dozens of adventurous activities you can plan from Kalani including hiking through Volcanoes National Park, Ziplining through Hawaiian jungles, and visiting Hawaiian cultural and heritage sites. How about challenging your team to a Hula dancing class or a game of Volleyball? Bring your corporate retreat to a close with a bonfire overlooking the ocean that they will build as a team.
Company retreats are not just for the Fortune 500 anymore. Corporations around the world are discovering the incredible value that is gained through investing in their employee's well-being and the future of the company. The above resorts provide a taste of what is available for small corporate retreat venues. Consider your company culture and your budget for traveling abroad. Anything that involves an exotic local and some scheduled fun and adventure is sure to get your team onboard for your vision of this year's corporate retreat.
For more info on corporate retreats in Costa Rica contact Natashia Steenkamp, international retreat leader, and facilitator. Email [email protected]
Written by Laurel Brauns is a travel writer, musician, and yoga life coach. She has lived in Costa Rica for the past two winters studying yoga has believes this country offers powerful transformative experiences to visitors who are looking to immerse themselves in nature and healthy living. She is a regular contributor to the blueosa.com blog. Learn more at lifecoachingwithlaurel.com.