TCRN Regional Correspondent: Katrina Palmer
Manuel Antonio's cocktail party for the Mono Titis!
Celebrating local sustainability, the Titi Conservation Alliance and members of the Quepos/Manuel Antonio community recently came together to 'toast the Titis' and enjoy a special evening of sumptuous appetizers, sensational wine and plenty of laughter held at the gorgeous Gaia Hotel & Reserve. The Solidarity Cocktail Party, organized by the Titi Conservation Alliance, was a huge success with more than 120 guests in attendance and raising over $2500 for the adorable, endangered Titi monkey. A portion of the proceeds generated from this event will also be donated to relief efforts in order to help those families affected by the recent floods in the area.
Donations from many local businesses ensured the event took place, thus showing the unity this community maintains for the conservation of the Quepos/Manuel Antonio area. The businesses who contributed include: Alpiste, Byblos Resort & Casino, Cafe Milagro, FEMSA, Gaia Hotel & Reserve, Haycom, Hotel El Parador, Hotel Mono Azul, Hotel Si Como No, Kapi Kapi, Mini-Price Store, Portasol, and Super Jordix. The generous support from these businesses shows their environmental commitment, responsibility and desire to make a difference.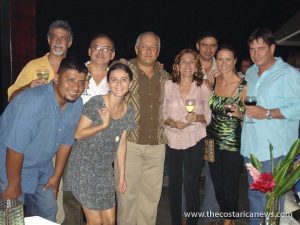 Titi Conservation Alliance
Established in 2001, the alliance was started by a small group of business owners who recognized the impact that growing tourism was having on the natural environment surrounding Manuel Antonio National Park and Quepos. With unchecked development and land use increasing over the last 15 years, these business owners felt a sense of responsibility and need to take action to prevent the flora and fauna that thrives here, the very essence of local tourism and essential to their livelihood, from being destroyed. Today the Titi Conservation Alliance has grown to have 25 member businesses and 2 community partners, all working together to save the Titi Monkeys, ensure their community's economic stability, and address the challenges faced with eco-tourism. The organization's mission is "to save the endangered Titi Monkey by promoting sustainable development and conserving the biodiversity of Costa Rica's Central Pacific Region".
The community partners and member businesses that make up Titi Conservation Alliance are: Aguirre County Chamber of Commerce, Arenas del Mar, Cafe Milagro, Casa de Frutas, Casa Las Nubes, Costa Rica Spanish School (COSI), Gay Real Estate Costa Rica, Grupo Manuel Antonio, Hotel California, Hotel Gaia, Hotel Kamuk, Hotel Parador, Hotel Si Como No, Iguana Tours, It's My Casa, La Mansion Inn, Marina Pez Vela, Pacific Trade Winds, Para Plata, Portasol, Rancho Los Tucanes, The Falls Resort, Titi Canopy Tours, Tulemar Gardens Resort, Villa La Macha, Villa Tranquilas, and Visualization Creativa.
Since 2001, the Titi Conservation Alliance and these movers and shakers have been creating the Naranjo River Biological Corridor, covering an area of more than 100,000 hectares, to rejoin the two populations of Titi monkeys, which is crucial for their future survival. To date 37,000 native trees (also a food source for the Mono Titi) have been reforested along the Rio Naranjo river basin – only 3000 more to go!
The alliance involves local schools, business employees, volunteers, local farmers and community members, who all have a desire to achieve sustainable conservation for the Titi monkey and the Central Pacific Coast region. They have three main areas of focus:
Habitat Reforestation
Unfortunately, with the growth of the tourism industry, the two known habitats for the Mono Titis have become disconnected, preventing travel from one area to another. With the Titi monkey on the verge of extinction, this is a serious issue that can't be ignored. Separation from other family groups can lead to inter-troop breeding, genetic disabilities and a further decline in the species. The Naranjo River Biological Corridor is one of the first national corridors with a formal ecological study developed by INBIO (National Biodiversity Institute of Costa Rica). It is currently in the process of being recognized as an official corridor by SINAC (National System of Conservation Areas).
Environmental Education
Titi Conservation Alliance works closely with businesses, schools and community members to inspire, educate and motivate locals of all ages to strive for environmental conservation. Adults in the community have the opportunity to attend seminars, workshops and educational events held throughout the year on topics including recycling, best practices and biodiversity. Member businesses also have the opportunity for environmental consulting, guidance and access to forest engineers to assist with fulfilling environmental requirements for the Certification of Sustainable Tourism (CST). Education is also provided in the schools with weekly classes at many of the 9 participating schools, as well as field trips, tree nursery programs, and assistance from the students with planting along the biological corridor. This year, 800 students have participated in the program.
Sustainable Tourism
Education for local businesses through seminars, workshops, educational events, participation with planting and other programs are focused on the principles of eco-tourism that have been developed by Titi Conservation Alliance to enhance and promote a responsible growth in the economy while protecting our natural environment.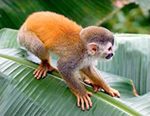 If you would like further information about the Titi Conservation Alliance or how you can help make a difference:
phone (506) 2777-2306
email [email protected]
or visit www.monotiti.org