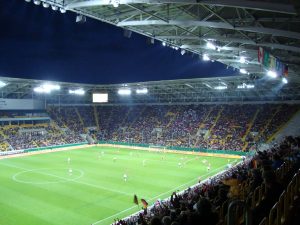 The Costa Rica News (TCRN) – The Women's World Cup Trophy Sub'17 Costa Rica 2014, the first World Cup to be held in Central America, began a tour that will be displayed to the fans of the country.
President of the Local Organizing Committee of the World Cup, Federico Rojas, told reporters that the trophy will be displayed in two shopping centers and the four stadiums that will host the games.
The tour, which aims to pique the interest of fans at the event began today at the National Stadium in San Jose, and in the coming days will be moved to two shopping centers in the capital and the city of Cartago.
It will also be in the other three World Cup venues: Ricardo Saprissa Stadium in San Jose, the Alejandro Morera Soto in Alajuela and Edgardo Baltodano city of Liberia, Guanacaste.
The World Cup will be held from March 15 to April 5 and will include the participation of 16 women's teams.
The inaugural match will be on March 15 at the National Stadium in San José, where Costa Rica and Venezuela's teams have been placed in Group A along with Zambia and Italy.
In Group B, they placed Ghana, North Korea, Germany and Canada and in the C group is New Zealand, Paraguay, Spain and Japan, while in D are Mexico, Colombia, China and Nigeria. (ACAN-EFE)
The Costa Rica News (TCRN)
San Jose Costa Rica