Surfing is one of the ways that visitors and locals experience the Osa Peninsula in a unique way. Paddling out to catch the fresh rays of morning sunlight, or squeezing in an evening session at the end of the day is a sought-after experience by many. Time on the board out at sea gives surfers an alternative view of the breathtaking Costa Rican sunset, green mountain backdrop, and endless sea. The bio-diverse region of the Osa Peninsula brings scarlet macaw beauties, blue morpho butterflies, and a wide range of other unique critters to add to the magic that surfers enjoy in this soulfully rich area.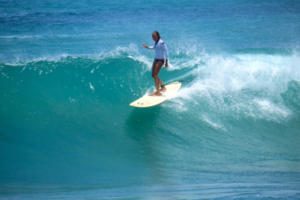 TIP: Get updates on upcoming Costa Rican Retreats & Events by joining our newsletter. Don't miss out on what's happening around you! Click here.
Here are some top spots that surfers in the Osa Peninsula wouldn't want you to miss:
Pan Dulce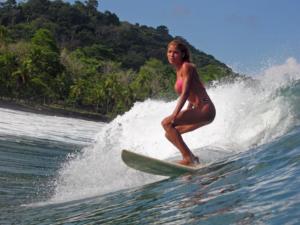 This area has it's best waves during the larger swells that flow into the Gulf. The Pan Dulce has a long right-point break that can be up to 500 meters long if surfers are lucky! We put this spot first on our list because of it's friendliness for beginning surfers. During low to medium tide, this beach is excellent for those who wish to try out their skills in surfing and gain some practice.
Matapalo
Matapalo has been a long time favorite spot for it's larger swells paired with the unique experience of nature that surrounds the area. The surfers who come to Matapalo on the Osa Peninsula often have experience and are seeking a challenge. This area is sought out and traveled to by surfers who live in the country, as well as those from all over the world. Matapalo is known for it's powerful right-hand wave which is at it's best during mid-tide.
Backwash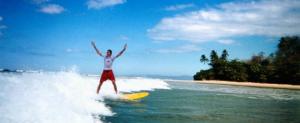 This surfing spot is located in the Golfo Dulce, and can offer an amazingly large swell. Many surfers choose this spot during mid-tide to low-tide. There are hollow and fast sections which make these waves fun for surfers and a popular spot to catch waves.
Pavones
Pavones is last on our list, but certainly not least! Pavones is nestled in the interior of the Golfo Dulce. When the waves are at their ideal conditions, Pavones easily makes the list as one of the top spots for surfing in Costa Rica. This spot is well known for it's epic world-class wave with lefts that may reach over a kilometer long. For surfers looking for a truly unique surfing experience and the chance to ride one of the longest lefts in the world, Pavones is undoubtedly the place to visit.
Written by:  Sarah Elena  https://therussianwanderer.wordpress.com/