Featured Eco Columnist
Elizabeth Mann

For a year one of my dreams had been to see and film the Blue Morpho butterfly in its natural habitat. On January 13, 2010, I finally had my chance to search for one of the rarest Blue Morpho species, Morpho amathonte, in the jungles of Costa Rica. For five days I explored the jungles and climbed through waterfalls as I persevered to complete my goal.
On my last day up in the jungles, January 16, I courageously journeyed out by myself to a river. My only form of protection was an umbrella and a whistle for my call of 911. When I arrived at the river, I found a large boulder where I was able to set up my filming equipment. As my feet dangled over the edge above the rushing water, I firmly griped my tripod and HD video camera. After patiently waiting, a giant butterfly brilliantly decorated with iridescent blue wings glided above my head and then over the river. It was the rare Blue Morpho butterfly, Morpho amathonte!
The Blue Morpho's giant wings were like a shimmering blue mirror that reflected the rays of sunlight. I was surprised when a second Blue Morpho came fluttering and dancing past. I felt very blessed to experience not just one, but two of the rare Morpho amathonte butterflies at the same time.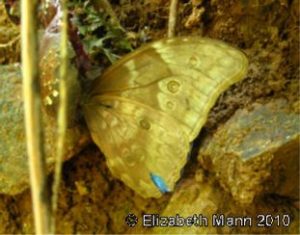 Once my filming was complete, I bravely decided to climb through the river so I could get closer and observe this amazing butterfly species. This time I took two dogs with me for protection. The journey up the river was difficult with the slippery rocks and powerful waters. The vines and branches above my head came to my rescue multiple times as I crawled over the rocks. Finally I made it to the location of the river where they were flying. With my camera in my hand I crept up on a Blue Morpho that had decided to rest (picture above). Its large brown wings blended in perfectly with the surrounding dirt, rocks, and dead leaves. The one clue of its presence was a sliver of blue wing that was now visible because a portion of its wing had been torn off. As I filmed this special moment, I reached out to touch it and at that moment its wings flashed open and then it flew away. It is important that we preserve the rainforest habitats in Costa Rica so that this rare species of Blue Morpho, Morpho amathonte, does not become extinct. Loosing this species would be a great loss because of its magnificent beauty.
To watch my search for the Blue Morpho butterfly in the jungles please go to http://www.youtube.com/watch?v=0u4ESLX9xq4
To read more of my adventures go to my blog http://elizabethssecretgarden.blogspot.com/