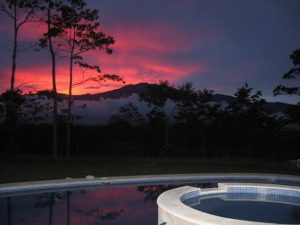 Some of the best gems are often hidden from the casual traveler on fixed tours because the tour operator finds them inconvenient or too far out of the way to make them financially viable. One such place I often think of is a natural amphitheatre in Israel named Shiloh.
It was the place where God commanded His People to pitch the tabernacle tent they had used in the wilderness for the first time in the Promised Land. There, God commanded the Israelites to celebrate His Feasts while sitting on the sides of the amphitheatre with the Tabernacle in the center.
Here the ancient Jews ate from clay plates and broke them, burying the pieces a few inches below the surface.
On one of my many visits to Israel, I, with the help of a local guide, found that site and, would you believe, there were remnants of those 3000 year old broken plates that could be scooped up by the handful. I gave some of the pieces to friends and I still have a few of them.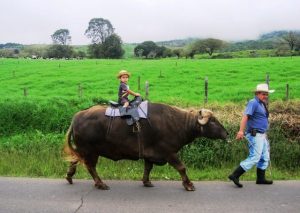 There is a part of Costa Rica that is almost always missed by tourists because it is a little out of the way. Yet, when we tell people in San Jose that we live near Turrialba they immediately go almost into ecstasy because they know that this is very best Costa Rica has to offer.
There are no Realtors in the area catering to North Americans and Real Estate agents in San Jose never venture this far. It is so much easier for them to take a short drive into the Central Valley or Escazu which are already full of ex-patriots from North America and, sad to say, the criminals who follow them like buzzards circling prey are also there.
It took five visits to Costa Rica before I found an agent who would take me to the lovely "Little Switzerland" area where I found the home site I had been dreaming of. I had looked at homes in the Central Valley with four or five agents who promised to show me large lots with beautiful views, fresh air and peace, but they all failed me and cost me a lot of money in airfares and car rentals.
They all showed me overpriced homes with only a few feet between the houses and no view other than of more houses.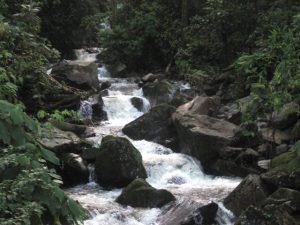 Finally one took me to the regional town of Turrialba (70,000 population) and on a few more kilometers to the coffee farm that I now call home. Six years later we have developed the property with internal roads, large 2 and 3 acre lots and of course electricity and water.
We have several North American neighbors and the people of the nearby villages are our friends as well as our workforce. I should mention also that there is security here because all of the local farmers and villagers are very honest.
Our Tropical Paradise is set on a hillside so that each house is built on a mesa so that we can't see the house below us. This deliberate design allows everyone to view the breathtaking mountain scenery without seeing their neighbor's house below them.
It is so quiet here that all you can hear is the rushing river in the valley below us and the sounds of birds. The air is pure, because we are far from the pollution of San Jose traffic, yet we have everything we need in the way of markets, bakeries, and dairies etc.
---
Traveling with a GPRS enabled mobile phone will help in knowing your exact location.
---
Banks and major supermarkets are 30 minutes away as are the regional hospital and clinics. We visit San Jose two or three times a month but we are so happy and relieved to come home to our own little piece of Paradise in "Little Switzerland."
David Rushton
For more information on this area you are welcome to contact the author by emailing [email protected] [gravityform id="1″] The Costa Rica News (TCRN) San Jose Costa Rica