(This week is the third installment of the book, "The Band Director's Lessons About Life", which TCRN is publishing as a series during 2020. This week, band director and spiritual author Donald Lee finishes the story about his own journey as a band director.)
From last week…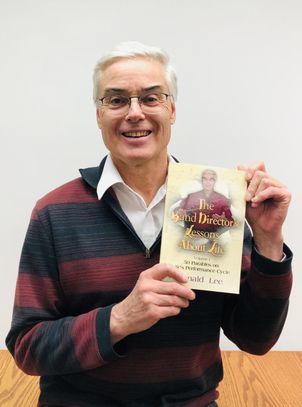 We returned to Canada in July 2009. The annual recruiting cycle was over everywhere. My wife and I rented a little house in central Edmonton with the idea that I would try to find enough work as a substitute teacher to make ends meet. Living centrally, I could easily go in any direction each morning, depending on where I found a job. I had been practicing and doing some performing in recent years. I intended to also do some private teaching and get some gigs around town. That was my plan. God laughed. He had a better plan.
I submitted my name as a substitute teacher with both the public and Catholic school boards. The day before school started, I got a call from Edmonton Catholic Schools. "Go over to St. Alphonsus School." What luck, if you call it luck. Our little rented house was in the parish of St. Alphonsus, where we had started attending church. I walked over to the school and met the principal. Due to some miscommunication, they were without a band director, and I ended up teaching there the whole year. God's plan seemed to work out a lot better than mine.
As the school year neared its end, I looked into what was happening with the various band directors and programs in the district—who was going on maternity leave, who was coming back from it, who was retiring, who was moving. It was pretty clear that, however the shuffling of people and positions worked out, there had to be a job for me in the district. There was one more program than there were band directors. Having worked for the district a total of five years (including the four years before I went overseas), surely I would get whatever position was left after everyone else moved around. Most likely it would be right here at St. Alphonsus. That was my plan. God laughed some more.
When the dust settled at the end of June, there was no job for me anywhere in the district. Once again, the recruiting cycle was over and I was without a job. Back to the previous year's plan.
In August, my wife and I celebrated our anniversary at a small restaurant in Edmonton. While we were eating, two couples from Fort Saskatchewan came in. Amid the greetings and the "I haven't seen you in years," was the inevitable, "What are you doing now?" question. It's awkward to say, "I'm fifty years old, unemployed, with no prospects," but that was the truth. They said that Our Lady of the Angels School in Fort Saskatchewan needed a band director.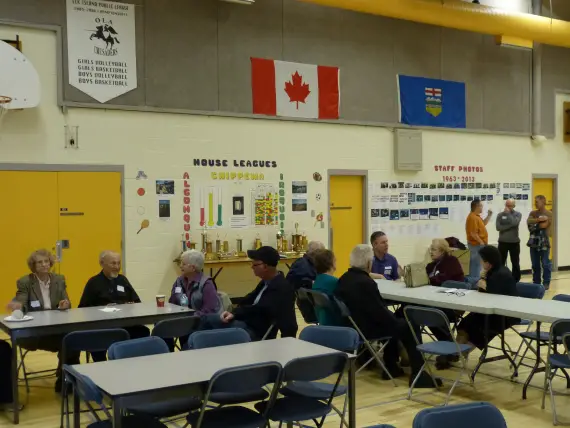 How could that be? I had been all over the job ads and seen nothing posted. Our kids had gone to that school. We knew the principal. It was my hometown, where I had grown up, where we'd raised our kids. What on earth was God doing?
I ended up with that job and spent the next three years teaching with Elk Island Catholic Schools, where I had a diverse assortment of part-time roles. Now in my early fifties and without any kids to support, I thought it was a great time to work not quite so hard. We moved back into our old house in Fort Saskatchewan, which we had rented out during our absence. I had some time to work on practicing and private teaching, and I tried to play some gigs. This was going to work out perfectly. That was my plan. Yeah, God laughed.
By the end of my stint with Elk Island Catholic Schools, it had become obvious that this plan wasn't working. I was getting almost no gigs and had only a few private students who didn't practice much and weren't very regular with their lessons. Retirement seemed as if it were being constantly pushed further and further into the future. I was on the "freedom seventy-five" plan. I still needed a full-time income and would for quite a while longer.
Once again, I was back in the job market, scouring band-director job postings all over the province. I had worked twelve years as a band director in seven different band programs—a checkered background, to say the least. That spring I got just one job offer: Glenmary Catholic School in Peace River. I needed a full-time job. My wife agreed to go. So off we moved to Peace River, about five hundred kilometers (three hundred miles) north of Edmonton. It was the summer of 2013, and I was fifty-five years old. I figured if I worked full-time until I was sixty-five, I should have enough time to actually build a good band program, stay in one place for ten years, and be able to retire. That was my plan. Are you laughing yet?
My wife and I really like Peace River. It's a beautiful location tucked in a steep river valley. A big hill—Misery Mountain, as they call it—right in the middle of town provides a great little ski hill and wonderful hiking opportunities literally right outside our door. We can walk out the front door and right up the hill. The mule deer come through almost every day, eating our grass, flowers, veggies, and fertilizing our lawn for free. Up on the hill, we regularly see deer, grouse, rabbits, squirrels, songbirds, and the occasional fox, coyote, moose, or black bear. In the summer we eat raspberries and saskatoon berries right off the bushes. From the top, we see breath-taking panoramic views of the town and valley.
The people here are true rural Alberta gems—friendly, fun-loving, and always willing to lend a hand. And it's here that I have found the good students I went all over the world looking for. Of course, they're not all good students. That's part of the revelation of the spiritual journey I have taken. I sought better students. There are good and bad students everywhere. I needed to become a better teacher. It's never about the world around us changing. It's about us changing.
One revelation on our spiritual journey is that what you seek is already right here with you—before you even start your journey. A second is that the world does not change by your journey. You change—and thus you see the world differently. Then you are able to see that what you seek is right before you. It always was. You always had it. Because what you seek is within you, not without you. So the spiritual journey is always a journey inward. The outward journey is just to show you yourself as reflected in the faces and places you visit.
As you journey through the following pages, I pray that the journey will be vicariously meaningful to you.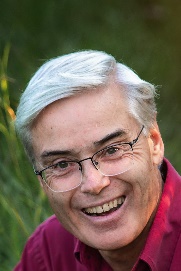 Donald Lee is a spiritual author and speaker. This article is part of a weekly series for 2020 in which TCRN is publishing his inspirational book, The Band Director's Lessons About Life: Volume 1 – 50 Parables on Life's Performance Cycle, in serial form – one parable per week. You can learn more about the author at his website: www.ComingHomeSpirit.com, or order a copy of his complete book on Amazon.