This Sunday, the 2020 municipal elections were held throughout Costa Rica, timely elections where the Ticos were able to choose all municipal offices occupants, including a total of 82 mayors; 508 aldermen; 486 public trustees; 1912 municipal councilors; 32 district councilors and 8 city commissioners. All these officials were elected along with their respective alternate deputies.
It should be noted that the elections were the fifth direct municipal elections since the amendment to the 1998 Municipal Code and the second to be held mid-term since the 2009 reform.
The National Liberation Party (PLN) lost in the various municipalities, while the Cantonal Parties managed to advance with 12. In that sense, the "Verdiblanco" party lost nine municipalities, since in the last elections it had obtained 50. Something important is also that in the newly founded canton of "Río Cuarto", the election of mayor and members of the City Council were held for the first time.
The survey conducted by CID Gallup, published in recent days, indicate that 60% of Costa Ricans have no political party affiliation, of those who have, 37% vote for the PLN, 7% for the PUSC, 6% for the PAC, 4% for Restauración Nacional, 1% for the Frente Amplio and 1% for Nueva República, the party of former presidential candidate Fabricio Alvardo.
More details about participation and results.
It turns out that the second force with an average amount of mayorships won was the Christian Social Unity Party (PUSC), which would lead 16 cantons, two more than in the 2016-2020 period. This was another political organization that made progress in 2020.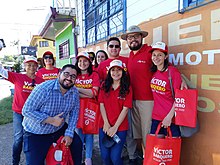 The Republican Social Christian and New Generation parties also obtained advancements compared to the previous elections. The National Restoration and New Republic parties did not win in any of the 82 cantons. It was a surprise, the victory of the ex-deputy of the Christian Democratic Alliance, Mario Redondo, who was at the head of the election in the central canton of Cartago.
Challenges for the newly elected.
After the results of the municipal elections, of course, the elect officials celebrated their triumph and their political organizations, in general, applauded the progress made. It is necessary to take into account the challenges that they now must assume, due to the situation that Costa Rica presents regarding environmental issues.
Today it is a hard challenge to assume responsibilities of such nature, which in turn are not impossible to face, like the issues of, protected natural areas, pollution, environmental awareness, the mining issue (Crucitas), the pineapples plantation controversies and without a doubt the protection towards our Eco-fighters, who are active denouncing and struggling constantly, for our the preservation of our national resources.