Volcanoes are considered as the greatest tourist attraction of Costa Rica as they captivate the attention not only of tourists but also of scientists from all over the world. They are also part of the spectacular natural diversity of this country.
This is because they play a very important role in how the lush landscapes of the region have developed due to the multiple eruptions over millions of years. The land of Costa Rica is very fertile as well as being very rich in many minerals.
TIP: Get our latest content by joining our newsletter. Don't miss out on news that matter in Costa Rica. Click here.
This fertility on its part not only contributes to the green vegetation but also allows an immense array of birds and wildlife species and also numerous tropical and exotic plants and trees.
The Costa Rican volcanic formations are part of the ring of fire of the Pacific, dating back more than 65 million years ago. However, today only a little over 100 show signs of volcanic activity. Most of the volcanoes of Costa Rica are found in the northern part of the country and in the central highlands.
In addition to the fertility and natural beauty of its surrounding lands, the volcanoes of Costa Rica are also fabulous recreational parks that allow visitors do hiking and trekking, rafting in crystal clear waters, sports fishing, paddling, swimming, horseback riding, camping, mountain cycling, and nature exploring.
Here are some of the best known of our volcanoes
 Arenal Volcano
You can enjoy various activities such as the bathing in comforting hot springs or under very high waterfalls arising from the volcano, take a zip line tour while admiring the exuberant flora and perfect climate.
It was inactive until the eruption of October 2010 and has been continuously active ever since. It also maintains acid rain to the west and northeast, with lava and pyroclastic flows, ashes and gases.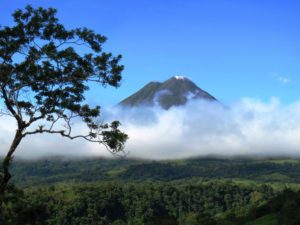 Poás Volcano
Poás National Park has a population of incredible birds and many fascinating animals to admire during your visit. It is located about 2,700 meters above sea level, located just one hour from the Juan Santamaría International Airport, near Alajuela.
It has an area of 5600 hectares and, with the exception of the closest area to the volcano, is covered by abundant vegetation.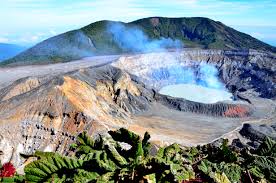 On August 25th, 2017, the Poás volcano begins a period of great activity with phreatic and magnetic eruptions. To the north of the active crater is the Von Frantzius cone, the oldest eruptive focus on the summit of the massif.
To the southeast, there is another inactive cone covered with forest whose crater is occupied by a beautiful lagoon (400 meters in diameter and 14 meters deep), which has cold water due to an accumulation of rain.
Irazú Volcano
A major eruption of the Irazú volcano, in 1723, completely destroyed the Costa Rican capital of San José, that was also completely covered with soot and ash after the eruption of 1993.
The best time to visit is during the months of March and April, when you can easily enjoy the numerous trails of the volcano, with its traditional restaurants and souvenir shops.
Close to this site you can enjoy several equally surprising destinations, such as Prusia, a beautiful park with 16 kilometers of walking paths among beautiful forests, or also the "Duran" sanatorium, an abandoned hospital that is believed to be "haunted".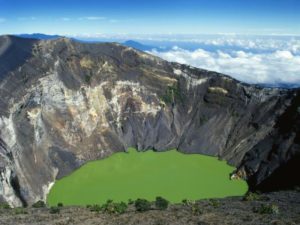 Throughout history, the eruptions of Irazú have been registered in 1723, 1726, 1917, 1921, 1928, 1930, 1933, 1939, 1940, 1962, 1965, and 1993. In 1723, the first eruption was documented by Diego de la Haya Fernández.
Turrialba Volcano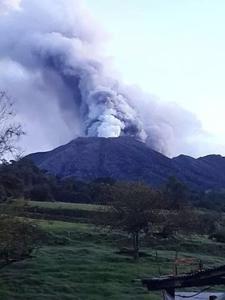 Located in Cartago, Turrialba is the most active volcano in the country. It is a good place to visit if what you want more tranquility and to know more about the rural culture.
Turrialba has a lot of natural beauty, being home to an impressive wildlife, such as giant agouti toads, toucans, howling monkeys, armadillos and long-tailed hermits.
Around its base, there is countless green hills with green pastures, horses, cows, and wildlife roaming freely in the fertile land.
In the same way, you can go see some coffee plantations, sugarcane fields, cattle pastures and much more to explore.
Barva Volcano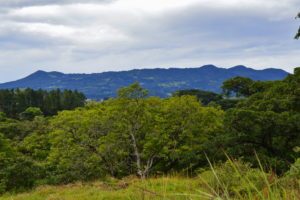 It is formed by a large geological structure north of the central valley. As an interesting fact, it has fumaroles and thermal waters.
It is of great importance because it provides drinking water to both the large metropolitan area of the central valley and other regions of the country, being the birthplace of many streams and rivers.
Rincon de la Vieja Volcano
Located in Guanacaste, it produces geothermal energy. This natural wonder is a paradise for nature lovers and makes an excellent option for a one-day trip from the beaches of Tamarindo, Conchal and other destinations in the Gulf of Papagayo.