Who doesn't want to travel as long as we can and do the coolest activities for the littlest amount of money? When surrounded by La Fortuna's lush forests and bubbling hot springs near Costa Rica's Arenal Volcano, you can never have too much time to relax.
When things start to feel more expensive than you hoped for in Costa Rica, just remember that the best things in life are free. If you keep your eyes open, and talk to locals you are guaranteed to find accessible gorgeous sights, free hiking trails, and more economical options than those recommended in your guidebook.
La Fortuna is a small town of about 10,000 residents. It lies at the foot of Arenal Volcano, Costa Rica's best-known volcano, in the Province of Alajuela.
You might ask, "How did the city come to be called "La Fortuna" or The Fortune? Some say it dates to when the volcano erupted in 1968 spewing lava in a westerly direction, destroying three surrounding villages, and killing 82 people. La Fortuna, east of the colossus, was spared. And, over the years, the volcano's spectacular activity and numerous hot springs gave birth to the area's tourism which has provided many La Fortuna residents with employment.
As one of the most visited areas in the country, most activities are pretty expensive. Despite, it is still possible to explore many sights in La Fortuna without spending a small fortune.
Hike Arenal for $10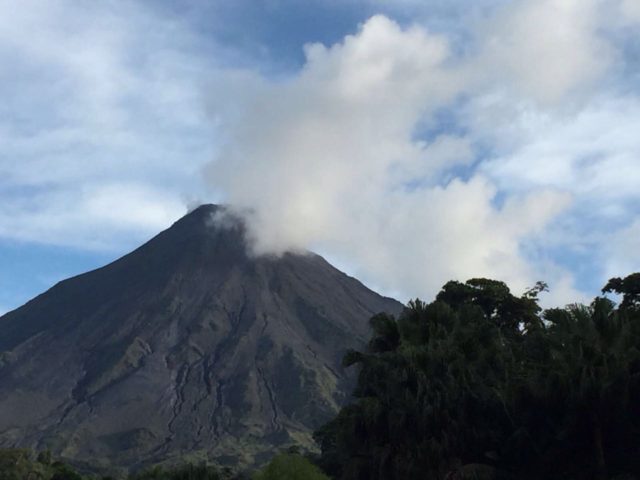 The Arenal Volcano national park is open to tourists for day-time hiking for $10. With the volcano is currently in a semi-dormant phase, those otherwise squeamish travelers might find this the right time to get near the previously-firey mountain. You can readily hire a taxi to the park as there are no local buses driving there. By sharing the ride with some other backpackers in your hotel, you can reduce costs. If you are not that into hiking, do not worry: When the sky is blue you can see the perfectly shaped symmetry of Arenal from afar, and enjoy the free impressive view as long as you life.
La Fortuna Waterfall for $15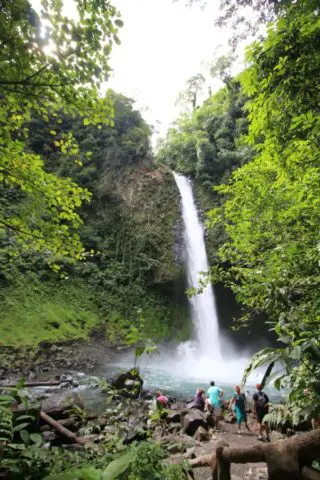 La Catarata Fortuna as the Ticos call it is fed by the Arenal river and drops 70 meters. As one of the most famous waterfalls in the northern zone of Costa Rica, La Catarata Fortuna attracts thousands of tourists a year. Even though the riverside tends to be pretty crowded, it is that popular for a reason. The beauty of this natural spectacle is worth seeing when you are in the area. If you don't pay an overpriced tour operator to bring you there and guide you around, it costs $15 to visit. The entry you pay is a contribution to a non-profit organization that  supports community development projects in the area.
The easiest way to get to the waterfall is by car. You can rent one in the center or you can grab a taxi. The ride from the center of La Fortuna will cost about ₡5,000 (less than $10). Keep in mind: The more people driving with you, the cheaper it will be for you. So check your surroundings and the taxi stops. You might meet some like-minded people heading the same way.
El Salto de La Fortuna – nature's free Tarzan swing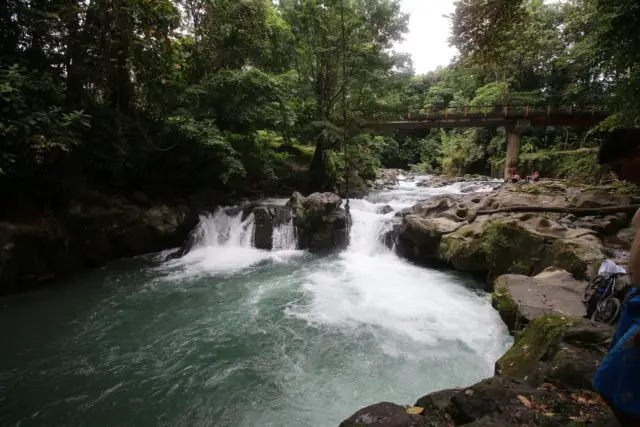 If you are looking some adrenaline, you definitely need to head to "El Salto de La Fortuna". It's a deep swimming hole at the base of a small waterfall, located outside downtown La Fortuna. You will find "El Salto" under a bridge along the road from La Fortuna to San Ramon. As it's only a 2-3 minutes drive from the city center, taking a taxi is really cheap. At the bridge, you need to climb down on the left side to get to the swimming hole.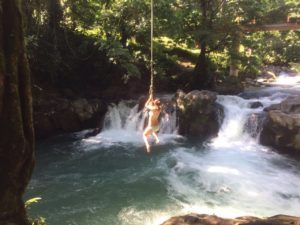 Above the waterfall you will find some large rocks on which to relax and soak in the sun. If you're here to swim and dare to jump, you definitely need to try the rope swing. Take a run, grab it tight and feel like Tarzan while swinging over the water. It is great fun, you will see! And the best part of all, it's free (but there might be a short line!)
As not many tourists know this place, you will mostly be surrounded by Ticos. They will encourage you to jump and help you get out of the water again. El Salto is a good place to make some new friends as well.
Hot springs – mother nature's free water therapy
La Fortuna has lots of natural hot springs which are heated from underground hot veins of the volcano. Springs offered at resorts start from about $23 for a day pass. Although many of them are worth the cost, you can also save your money and explore some free hot springs. Don't be afraid of not getting the full experience this way. Just because they are for free, doesn't mean they are not beautiful and equally relaxing.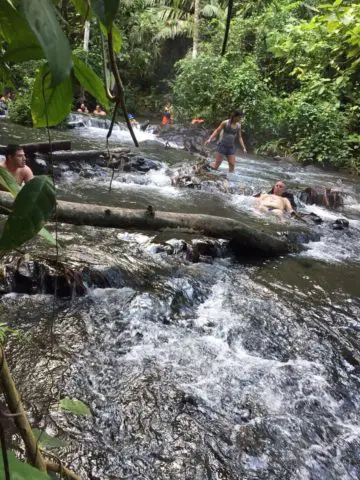 These free-flowing hot springs are down the street from the Tabacón Resort's hot springs. Located 10-15 minutes from downtown La Fortuna, you need a vehicle to get there. A taxi drive from the center costs about ₡7.000-8.000 (about $13-15). From Tabacón's hot spring entrance, head down the street and follow a small path that takes you under a bridge. As the ground is a little rocky and you have to walk through some shallow water to find the site, be prepared with appropriate shoes. 
You'll find the best place for a bathing by following the voices of other people. Locals and tourists alike come here to relax. Though they are always some people sitting and floating in the shallow river, it is never so crowded that you can't relax. Take a seat in the naturally formed pools out of rocks and enjoy the pleasant 40 degree Celsius natural springs.
Enjoying nature's beauty in La Fortuna as well as nearly everywhere else in Costa Rica doesn't have to be expensive if you ask around, share transportation and are willing to be a little adventurous. Brushing up on your Spanish before arriving will help you negotiate the local scene more readily as well.
Pura vida, and safe travels!