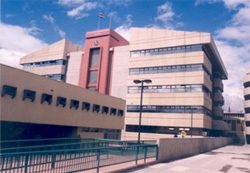 TCRN Staff
Enthusiasm dominated the closing day of the telethon, however, at press time, they were far from the goal of raising ¢500 billion.
By 9 pm, presenters Leonardo Perucci, Patricia Figueroa, Adriana Duran, Veronica Bastos, Geovanny Calderon Mauricio Hoffman announced that the donations came to ¢152 million and therefore urged the participation of the Ticos.
A large group of artists took the best of his ability to motivate the Costa Ricans to reach the goal to help equip the Hospital de los Sonrisas.
El Palacio de los Deportes in Heredia, reported good attendance and donations from private and public companies.
The traditional electronic whiteboard, for counting the proceeds, was not as present as in previous years.
Those who did not attend missed performances be national and international artists such as Gandhi, Tito Oses and Escats.
Smiles children. The children, mostly accompanied by an adult, enjoyed the children's area that started at 8 am with Lula Cow Show.
Bum Girls part of this block enlivened with songs and choreography of the Argentinan novel Ugly Duckling, and the young artist Hilary Duff, animated children chanted and accompanied with clapping.
The audience is entertained in this segment with the Banco Nacional Show, the Show from the Children's Museum and telethonin Show, the official mascot of the Telethon.
One of the most anticipated presentations was that of Los Pirulos, who were loudly applauded by the all.
In his show, The Pirulos performed their traditional cha cha cha, and a choreography of Michael Jackson. For the finale, a medley of Christmas songs.
The children's part ended with a highly anticipated show of the Sesame Street characters, who appeared at noon.
The children, full of enthusiasm and joy, ran to the bottom of the stage to appreciate the spectacle.
It was thus with dancing, clapping and singing Elmo, Lucas and Henry filled with small smiles that attended the Telethon 2009.
The games and constant interaction with the public helped to entertain every child at the end of the presentation.