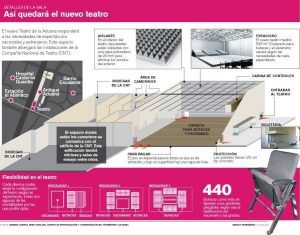 by TCRN Staff

The more than 540 square meter new Teatro de la Aduana is almost ready to be opened within the program of activities for the International Arts Festival (FIA) 2010.
This was confirmed by Sandra Quiros, director of the Center for Research and Conservation of Cultural Heritage, the body responsible for the works.
TIP: Get our latest content by joining our newsletter. Don't miss out on news that matter in Costa Rica. Click here.
This project, which also houses the new facilities of the National Theater Company, had a cost of ¢ 1,050 million.
The floor, backstage, bleachers, dressing rooms and wiring are ready to receive the public and the companies participating in the activity. In fact, the first space will be premiering the Archipelago Theater (Costa Rica) with the labyrinth of butterflies.
Quiros said that the only thing that remains is the installation of air conditioning, to be completed in April. However, this will be fixed temporarily with a wearable artificial air equipment.