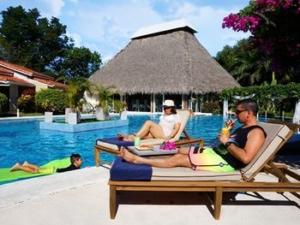 Denver, Co (PRWEB) April 28, 2012 – People looking to take advantage of Costa Rica travel dealscan find significant discounts during the green season. The term "green season" was originally developed because it was considered more appealing to potential clients than the term "off-season" which usually led to them to think about poor weather conditions.
Costa Rica's green season is from May to December for most regions, with the most precipitation occurring during the months of September and October. However, the months of July and August are the driest months of the green season making it ideal to achieve great value vacations.
TIP: Get updates on upcoming Costa Rican Retreats & Events by joining our newsletter. Don't miss out on what's happening around you! Click here.
Savvy travelers have been taking advantage of Costa Ricas green season during the months of July and August for years. A majority of hotel rates are discounted between thirty and fifty percent, the large crowds of tourists have disappeared, and sunny days at the beach are still very much the norm.
Yes the rainforest mountain slopes may be getting soaked but why should that prevent travelers from taking advantage of the huge savings on travel deals to gorgeous beach locations? If it does rain along the coast it usually starts in the afternoons and then stops by nightfall.
Emily Glazer (writer for The Wall Street Journal Travel section) recently wrote an article stating "head south of the border – really far south – for the best deals. Many countries in Central America and South America are experiencing a tourist boom for eco-travel in particular – thanks to a slew of new hotels and cheap package deals. And your dollar will go a lot further than in the U.S. and Europe."
Travelers can take advantage of great travel deal packages like the Tamarindo Beach Escape. The package includes a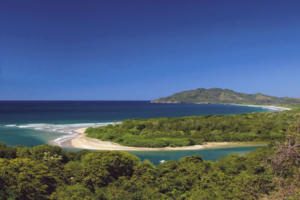 four-night stay in the luxurious four-star hotel Tamarindo Diria Beach & Golf Resort, a welcome bottle of wine, meet and greet at the airport and a 4-day SUV car rental. During high season the package starts at $1378 for 2. People who purchase this package for travel in July and August save 30%. The package rate drops to under $1,000 for 2 based on double occupancy.
Casa Conde Del Mar is located to the north of Tamarindo and on average gets the lowest precipitation in all of Costa Rica. Even though the green season really doesn't affect this region travelers can still take advantage of travel deals such as the Four-Night Guanacaste Beach Package for Two. The package includes four-nights at the Hotel Casa Conde del Ma (4-star hotel), a 4 day SUV rental, airport meet and greet and a welcome bottle of wine. The retail package price during high season starts at $1378 for 2 but for travelers heading south in July or August can save 30% and purchase the same package for under $1000.
Not all travelers are looking for a beach vacation. Visitors who want to explore some of Costa Ricas most famous volcanoes are in luck. The regional green season for the Arenal Volcano and Northern-Lowlands area is opposite to the Coast. This area offers the best weather during the green season.
Just because the Arenal Volcano regions green season doesn't start until December, doesn't mean travelers still can't find Costa Rica travel deals offering substantial discounts.
The Three-Night Volcanic Spa Package for 2 is a perfect example. This package includes an airport meet and greet, private transfers, 3 nights at the Arenal Kioro (volcano view suite with hydro massage tub in room), welcome drink, Titoku Hot Springs, volcanic mud mini facial for her and a rainforest zipline tour for two. During the high season the package rate starts at $1,754.50. People who purchase this package for travel in July and August save 30%. The package rate is around $1,250 for two people.
Whether an individual wants to book their own trip or choose to alleviate the hassle and book their vacation through a travel agency one fact is clear, travelers can save a lot of money traveling during the green season without being overly affected by the amount of rainfall in the months of July and August.