Costa Rica has always been a country which has gotten behind organizations that battle in favor of endangered species. It is not a secret that there are a lot of animals which are on the red list because they are on the brink of extinction. However, some organizations have taken a stand to this issue and have created strategies to rescue these creatures from poachers and illegal traders. In this case, sixteen macaws were "rewarded" with the most precious gift of life; freedom, since they were released to wildlife after having been born in the Animal Rescue Zoo facilities.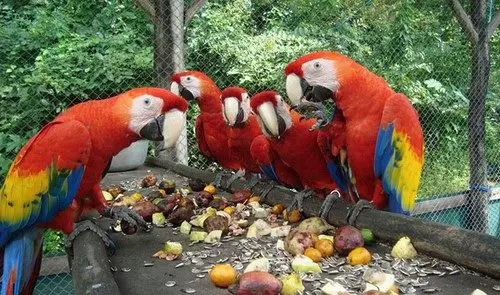 Red macaws in a shelter
TIP: Get our latest content by joining our newsletter. Don't miss out on news that matter in Costa Rica. Click here.
The Ministry of Environment and Energy in association with the Animal Rescue Zoo Ave released the parrots in the Bosque Escondido Wildlife Refuge located in Nicoya. The experts in charge of these animals put a ring around one of each parrot's leg for better monitoring of their wildlife.
The red macaw is one of the species in danger of extinction in the Costa Rican territory. Rescue centers in the country receive more than 4,000 endangered species per year. These organizations have the task returning the animals back to their habitats in perfect conditions. So far, 80% of these beautiful creatures have been released to wildlife successfully.
There are several shelters for red macaws in the country which have taken the responsibility for returning birds and other species to nature. Some of them are:
The Neotropical Wildlife Rescue Center.
The Endangered Species Reproduction Center.
Center for Research and Conservation of Wildlife
The Bosque Escondido Wildlife Refuge.