Let's Celebrate Our Language
On this day, April 23, speakers of Spanish around the world celebrate "El Día del Idioma Español". It is a tribute to Spain's best-known writer, Miguel de Cervantes Saavedra, who died 402 years ago. Cervantes is the author of "El Ingenioso Hidalgo Don Quijote de la Mancha". Known in English as "Don Quixote", a work widely considered as one of the first and most influential modern novels of the Western World.
The Language
Spanish is a Romance language that derives from "Vulgar" or "Common Latin". There are several major Romance languages: Spanish, Portuguese, French, Italian, Romanian, and Catalan. They got that name because they all originated from the simplified Latin language spoken by Romans at the time they conquered most of the European continent.
~ Over 400 million people speak Spanish as their mother tongue. When ranked by number of native speakers, Spanish is the second biggest language in the world.
~ With about 40 million native speakers in the United States, Spanish is also the second most-common language in that country.
~ While it is the official language of most Latin American countries, Spanish is not Spain's only official language. The others are Galician, Basque, and Catalan.
~ Spanish is one of the United Nations' six official languages* and the working language of the General Assembly, the Security Council and the Economic and Social Council. * The others are: Arabic, Chinese, English, French and Russian.
~ The Gramática de la Lengua Castellana ("Grammar of the Spanish Language") written in 1847 by Venezuelan-born scholar Andrés Bello's was for a long time the leading work in this field.
~ Founded in 1713, The Royal Spanish Academy of the Language or Real Academia Española (RAE) is the official royal institution in charge of safeguarding the correct use of the Spanish language. Its motto is "Limpia, fija y da esplendor" ("Cleans, fixes, and gives splendor").
The Man
~ Cervantes was born on September 29, 1547 (assumed) in Alcalá de Henares, Spain. He had a very difficult and troubled life.
~ Over the years, Cervantes held several jobs. He was a tax collector and food purveyor for the Spanish Armada. He also was a military man, playwright, poet and writer.
~ In spite of El Quijote's success, Cervantes never received any payment for its publication, and 12 years later died a poor man.
~ Cervantes was a duller (and a jailbird) In 1569, at age 18, he had to leave Spain and settle in Rome because he had hurt a man in a duel. On another occasion, one of these opponents died following a duel and Cervantes went to jail for that. It was his third time. Cervantes was also excommunicated.
~ He was a Marine. In October 7, 1571, at age 20, Cervantes fought in the naval Battle of Lepanto, on the Corinthian Gulf in Greece, against a fleet from the Ottoman Empire. He was severely wounded in action. He received three harquebus shots, two of them in the chest and one in the left arm. As a result, he lost the use of his left hand. Since then he was called "El Manco de Lepanto", [The One-armed Man of Lepanto"]. Cervantes was always very proud of having been part of that military action.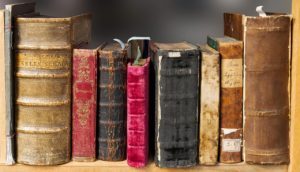 ~ Five years after the battle of Lepanto, his ship was captured by pirates and Cervantes was held as a hostage and slave in Algiers for five years. He attempted to escape his captors several times but did not succeed. Eventually, Cervantes was ransomed by his family and a Catholic religious order and returned to Spain.
~ Cervantes' true appearance is not known for certain. Most of the portraits, busts, and statues of him are based on his description of himself in "Exemplary Novels": 'This you see here of aquiline face, brown hair, forehead smooth and emptied, of bright eyes and nose curved, although well provided….'
~ His final resting place is a mystery too. Cervantes was buried in a church that was part of the Convent of the Barefoot Trinitarians, the religious order that helped him when he was a prisoner in Algiers. Over the years his coffin got lost. In 2015 a forensic team claimed they had located the bones of  Cervantes. They were alongside those of several  other people and the results of both physical examination of the remains and DNA testing have been inconclusive so far.
~ Although Cervantes died on April 22, 1616, Spain and the world commemorate his death on the 23, the day he was buried.
The Quixote
Cervantes wrote many other books, plays and poems but the one work he will be forever remembered by is 'El Quijote'.
~ The novel's main character is Alonso Quijano, an impoverished, middle-aged hidalgo (a minor nobleman), who lives in a village in La Mancha, Spain at the beginning of the 17th century.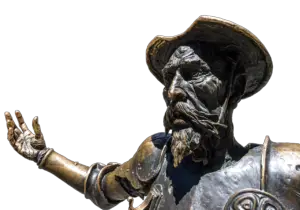 Quijano spends most of his time reading books of chivalry that tell fantastic adventures of knights, magicians, dragons, and damsels in distress. He gets so inmersed  in  these books that "…he spent his nights reading from dusk till dawn and his days reading from sunrise to sunset, and so with too little sleep and too much reading his brains dried up, causing him to lose his mind."
In his madness, Quijano decides that he should emulate his imaginary heroes, leaves his estate and as a knight-errant goes on a quest, with results that are ridiculous and pathetic yet rather funny and even endearing.
~ To tell Quijano's adventures, the author uses a combination of humor, everyday events, and realistic language, together with dissimilar characters that speak for themselves about each one's point of views about life. This is called polyphony.
~ Cervantes started writing El Quijote while he was in jail in 1597.  The book was first published on January 16, 1605. A second part was published in 1615, two years after Cervantes' death.
~ In 1614 appeared the apocryphal "El Quijote de Avellaneda" by Alonso Fernández de Avellaneda. The book's intention was to attack and annoy Cervantes. Experts say it is fairly well-written, funny, coherent and respectful to the original. Curiously, no one knows who the real author is. Some say it was someone close to Lope de Vega, a famous playwright, poet, novelist and marine and personal enemy of Cervantes.
~ According to some sources "Don Quijote de la Mancha is the second most translated book after the Bible".
~ Throughout history, this novel has inspired writers, playwrights, artists from all over the world. There are movies, TV programs, operas, ballets, mangas, paintings based on it.
~ From Han and Chewie to Sam and Frodo, from Batman and Robin to Spock and Kirk, every hero couple is a nod to Don Quijote and Sancho Panza, his squire.
~ El Quijote has given new words and images to different languages. For instance, in English quixotic means: "having or showing ideas that are different, admirable and unusual but not practical or likely to succeed."
So next time you feel you are tilting at windmills, remember that a long time ago "Somewhere in la Mancha, in a place whose name I do not care to remember" a crazy old man who rode a nag and believed in himself and in fighting for what he thought was right no matter the cost, did the same thing and achieved universal acclaim and eternal glory.