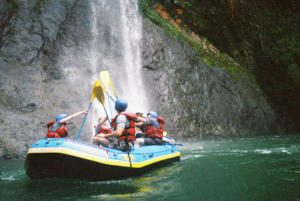 COSTA RICA – Blood rushed to my head with the speed and fury of extreme rapids. I was excited.
Checking into Borinquen Resort and Spa in Costa Rica recently, I spotted a whitewater rafting brochure.
Rafting draws me more surely than any Greek mythological siren drew sailors to rocks. I was hooked after my first rafting trip with the Edmonton-based Canadian Airborne Regiment in 1969. I paddled the last 300 kilometres down the Churchill River and into Hudson Bay. There were nine of us in our raft when we swept around a bend in the Churchill to hear a thunderous roar. A waterfall.
We paddled desperately for shore but the current swept us to where the river funnelled between narrow cliffs. We seemed to hurtle over the lip of the waterfall in slow motion. We then fell six metres.
The raft bent in two when it hit the churning waters. Two men fell out and our rudder, a two-metre tree trunk, snapped with a loud crack. But we survived.
That was more than 40 years ago. Now, I have two new hips and a wonky right knee but I didn't think twice about signing up for the raft trip.
The Borinquen Resort receptionist told me it was on the Colorado River. That's Costa Rica's Colorado River and not the Colorado River near Vail, where many a time I had feared for my life while rafting.
I remember one trip in particular in the spring of 1970.
I talked friends into buying a 2 1/2-metre, yellow PVC raft, paddles and life vests so we could raft the big waves of the Glenwood Canyon.
There were many incidents — I once found myself swimming underwater in a strong current when catapulted out of the raft — but none compares with the day we ran the river in rushing water.
The five of us — Linda Deaton, Ron and Jane Buchan, Larry Disher and myself — knew immediately it was stupid to have launched. Our paddles were useless. We spun helplessly.
Ron jumped out when we neared the northern bank at one point and tried to pull us ashore. But the raft, full of water, was too heavy. We were swept away.
There was soon a traffic jam in the canyon. Hundreds of tourists stopped to watch waves wash over us.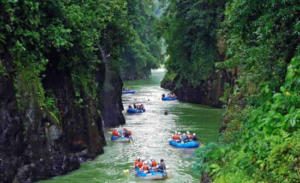 There was a bang when one of the three panels of our raft punctured. After a superhuman paddling effort, and luck, we made it to the south shore. We scrambled up a steep bank to a rail line and began heading upstream to a dam.
But we hadn't gone far when a sheriff with a bullhorn yelled from the far bank: "Stay where you are. We'll rescue you."
On a quieter spot of water, he launched a motorboat and ferried us over, one at a time. The Garfield County sheriff said he'd pulled 53 bodies from the river over 20 years. The only reason he didn't ticket us was that we were wearing life vests.
Rafting the Colorado in Costa Rica looked like more of an interesting challenge on the map than it turned out to be: 13 sets of rapids in three kilometres, with a 2 1/2-metre-drop over a waterfall.
But I took one look at our two-person rafts and knew it must be child's play. They were blue tubes about two metres long made of lighter plastic. They resembled a canoe more than any raft in which I have waged war.
The scenery was spectacular. We were in a canyon in the second-largest rainforest preserve in the country.
The river is known for tarpon, snook and rainbow bass. But our guide Hubert Chaves first pointed out huge black water spiders and monkeys. "Rapids on the river are often classed as Grade 3 in the rainy season and we'd fly over the top of rocks," he said. "But the water is low. Rocks might cause us to be thrown out. Can you swim?"
The waterfall was a bit more like what I had expected. But it was over in about two seconds. The raft buckled. But neither the guide or I were in danger of being thrown out.
The nice thing was my $165 included lunch. Boy, did I fill up on black beans and rice to recoup some of my outlay.
From The Edmonton Journal