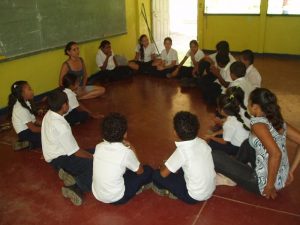 The small school of Carbon 1 and its students and parents have partnered with generous group of women from North America called "Women Like Us" and with ATEC (the Talamancan Association of Ecotourism and Conservation) to renovate their school.
Work is getting done. With financail donations from Women Like Us, support of parents in the school, and coordination by ATEC, the project has begun by installing a new electrical meter and wires.
You can help out too! On Friday the 16th of July the Carbon School is calling for a work day! A generous parent has donated the wood to make new desktops for the 18 students. The desks will need to be sanded down and repainted, the new desktops varnished and names of the students carved in each desk. We also plan to scrape and sand down all the metal in the two classrooms, including metal bars on the windows and the metal doors and then paint them. And do a general cleaning of the two main classrooms and the bathrooms.
The list of what we need to do this phase of the renovation project:
Sandpaper for wood and for metal
Paint brushes
Brushes to scrape metal bars
Anti-corrosive paint for the desks and the bars on windows
Varnish for new desktops
Gloves
rags,
CLEANING SUPPLIES
To give us a hand on Friday the 16th of July, the work day at the Carbon 1 School, contact:
Alaine in English: [email protected] or call 8320 4821
Ana en Español: [email protected]
Plans for the future of the school include:
Proceed with replacing all old electrical wire and replacing ceiling in two main class rooms
Fix up the bathrooms
Get desk for the teacher
Make shelving for the existing classrooms
New chalkboard or whiteboard
Paint classrooms
Proceed to new "Sala de actas" =new classroom; construction, electricity, paint, roofing, all that goes inside.
Then, fix up the lunch room
Some day: fix up the teacher's house.
TEL/FAX  (506) 750-0191, TEL 750-0398
Correo Electrónico: [email protected] Sitio Web: http://www.greencoast.com/atec.htm