The Costa Rica News (TCRN) – I stood at the top of a cliff, holding the rope attached to my harness, feet shoulder width apart, and leaning back, as instructed.  I turned my head and looked down the 80 foot rock wall.  As my backwards decline began, my guide, Elio, navigated; I saw his mouth moving, but heard no sound save that of crashing water cascading over rock.  I watched his hand signals, the only way he could communicate any instructions.  The waterfall and I descended together, a parallel journey, both destined for the celadon lagoon below.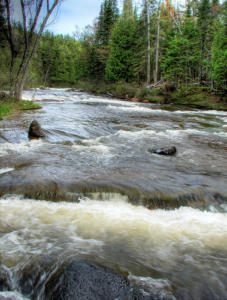 My hand slackened the rope and I took small steps, occasionally slipping on moss.  As my confidence grew, I pushed off from the wall and bounced the rest of the way down, propelling my weight into the air and rebounding.  At the bottom, I hovered about two inches above the water.  The second guide, David, loosened the grip on his portion of my rope and, smiling, said, "Let go!"
My fellow adventurers followed one by one, buoyed by cheers of encouragement from those that had gone before, until all of us had conquered our first special canyon feature.  We swam out of the cool pond and, knowing nothing but to follow where we were led, continued.  The crew did some downclimbing through rocks, large and small, some smooth enough for us to steady ourselves, avoiding those slippery with lichen.  There was the occasional wade-in eddys, shade from rainforest trees darkening the water and obscuring dips in the earth, requiring David to call out a warning.  "Hole!"
After our challenging walk across an open part of the canyon, we arrived at another cliff, this one significantly shorter than the rappel, but no less intimidating.  Elio looked at me and said, "Jump into the middle."  Peering down at the small accumulation of waterfall foam that spread into a pool, I did just that.  Arms spread, legs kicked to the side, laughing, I launched myself from the ridge and fell. In succession, my friends braved natures downward pull into the waters below.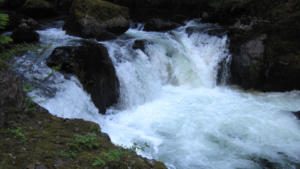 We headed to another trek over rock and through stream, until we arrived at a deep river.  Streams that coursed through the ancient rocks we had just traversed, all collected here.  Standing on a ledge just a few inches from another dousing, Elio grabbed my hands, turned me around, said, "Just fall back", and then released me.
Floating on my back through a narrow canyon of small caves and jutting rock, all designed by the ebb and flow of timeless waters.  The canopy of rainforest flora high above me alternately overlayed their broad leaves to shade me, then opened them to reveal blue sky dotted with white.  My pounding heart calmed to its routine beat.
The downtime was brief.  As Elio pulled each of us from our reprieve, we were guided to another cliff jump, this one more technical.  David was already in the river when we arrived, holding his hand over a portion of the water as Elio explained, "You have to jump into that spot.  On either side are rocks."  My heart once again picked up speed.  I carefully pushed off the rock face, and David pulled his hand away just as my feet hit the water.   The group gradually gathered into an alcove in the gorge, holding our breath, watching as the next one of us hit the target.
More rocks, more moss, more eddies as we traced the deep river canyon.  Limestone steps, kindly provided by Mother Nature, led us to a narrow shelf.  Slowly, as to not fall into the rushing stream below, our intrepid army crept along.  We searched for solid footholds, and for dents in the canyon wall to grip.  Our path ended at the top of our highest cliff jump, and our last.  The dependable Elio was at the top encouraging, David at the bottom, supportive.  One more leap of faith, one more submission to the pull of gravity, and the course would be conquered.
We all swam, synchronized success, to a large basin encased by cavern walls.  I found a shallow spot, did a handstand, and kicked my feet in celebration.  We were survivors of challenges created by this secret section of the rainforest near Arenal, Costa Rica, and discovered by a few pioneers from Desafio Adventures.
Are You Ready for Adventure?
The "Gravity Falls Waterfall Jumping" experience with Desafio Adventure Company is for the adrenaline junkie, the extreme adventurer.  It is challenging, exhausting, and amazing.  It is intense, intimidating, brilliant and beyond.  It is not for the faint of heart.  It is for those who understand the importance of having a strong safety net, someone holding tightly to the other end of your rope.  It's for those who also understand that there are times when you just have to take a deep breath, and jump!
By Elizabeth Dickinson
The Costa Rica News (TCRN)
San Jose, Costa Rica