FRANKFURT-
Global education leader Houghton Mifflin Harcourt has secured multiple adoptions
of its groundbreaking customized education solutions throughout Latin America.
From Ecuador and Chile to Panama, Costa Rica and Mexico, the global education
leader's localized Spanish-language reading and mathematics programs have become
a prime choice for educators.
"Educators around the world have long turned to Houghton Mifflin Harcourt to
provide the best research-based education materials," said Terry Nealon,
International Publishers senior vice president, Houghton Mifflin Harcourt.
"These latest successes in Latin America further solidify our firm reputation as
the most respected source of innovative learning solutions worldwide."
TIP: Get our latest content by joining our newsletter. Don't miss out on news that matter in Costa Rica. Click here.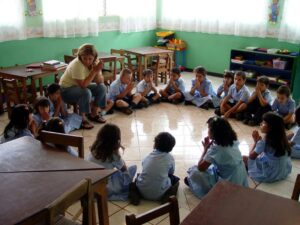 The Company has recently authorized Librería y Papelería Guayaquil as the
exclusive distributor of its core curriculum digital education solutions in
Ecuador, including Destination Math, Destino Matemáticas, Destination Reading,
Destino Lectura, the Edmark House Series and Earobics. Librería y Papelería
Guayaquil, previously an authorized distributor of Houghton Mifflin Harcourt
print solutions, will use this strengthened partnership to promote both print
and digital offerings by delivering best-in-class blended solutions to
Ecuadorian schools.
Houghton Mifflin Harcourt has also signed a new contract with partner Vernet to
distribute its solutions in Central America. The new contract extends the two
companies' existing relationship, which originally covered Puerto Rico. Vernet
has successfully distributed Destino Matemáticas, Destino Lectura and other
programs in Puerto Rico and is already making great strides toward establishing
new business in Central America.
Finally, the Company's Moving into English program – a bilingual language
acquisition program that provides teachers with flexible, intuitive and
language-rich resources to help improve students' phonemic awareness, phonics,
language exploration, comprehension and fluency – has met success throughout
Latin America. Panama's Ministry of Education chose Moving into English as a
leading program for its public schools national bilingual project, "English for
Life," and Costa Rica's Ministry of Education will begin a Moving Into English
pilot program next January.
About Librería y Papelería Guayaquil

Librería y Papelería Guayaquil provides best-in-class texts, materials and tools
for the qualification and development of Ecuadorian citizens, through prompt
distribution and constant support of clients. The stability of Librería y
Papelería Guayaquil in the national market has been possible thanks to a
reputation of honesty and responsibility and the confidence that clients and
suppliers have in the service provided. The company counts more than thirty
years of experience in the Ecuadorian publishing market in the areas of
importing, distribution, promotion and sale of American and British publishing
house texts. Librería y Papelería Guayaquil is an authorized distributor of
Houghton Mifflin Harcourt K-12 imprints, and has recently been designated as the
exclusive distributor of Houghton Mifflin Harcourt's digital education solutions
for the Ecuadorian market. To learn more about Librería y Papelería, visit
www.libreriaguayaquil.com.
About Vernet

Vernet's primary business is the development and marketing of educational
software to elementary, middle and secondary schools. Vernet has provided
educational products and services to the private and public school sector in
Puerto Rico and their business strategy is to provide the latest innovations in
CD/computer-based Spanish-English educational software and Internet products and
services for K-12 schools. Vernet also provides Supplemental Educational
Services with Title I funds to the public school sector to increase academic
achievement of students in schools in the second year of improvement. Vernet,
Inc. is Houghton Mifflin Harcourt Publishing Company's exclusive authorized
distributor for the student products Destination Math, Destino Matemáticas,
Destination Reading and DestinoLectura in Puerto Rico, Dominican Republic and
Central America. For more information about Vernet, visit
www.hmlt.hmco.com/Intl-Puerto-Rico.php.
Source