Society evolves, either by accepting new behaviors promoted by minority groups or adapting to recent events. The process is slow, maybe too slow for these times where technology makes people think that everything can happen at google-speed. Science pushes forward too fast and human condition can't really keep up with machine-like thinking.
Accepting non-heterosexual groups remind of racial discrimination, that struggle for equality started more than 60 years ago. And for what is worth, the struggle still remains in America. Yet, we ask people to accept something that many religions and groups go against. As with walking, taking baby steps seem the best way to eventually get the acceptance for gay communities.
TIP: Get updates on upcoming Costa Rican Retreats & Events by joining our newsletter. Don't miss out on what's happening around you! Click here.
Likewise, Costa Rica's society is barely starting to crawl on LGBTI issues. Just three years ago the government accepted giving gay couples the right to social security services. That was a big win for the community in Central and Latin America.
Central America's LGBTI heroes
Marco Castillo is a 70-year-old homosexual that fights for the rights of gay men and women. In 2014, he rejoiced when he finally shared with his boyfriend social security benefits. "This is a big step in conquering our rights, it makes social conscience", he said at the time. Luis Guillermo Solis' government has an openly homosexual member in its cabinet, the leftist is progressive in pro-homosexual policies.
In contrast, Central America is the most belated region in rights for the LGBTI communities. It was one of the conclusions of the VI Regional Conference of the LGBTI community for Latin America and the Caribbean. Currently, Costa Rica is leading the region in these inclusive plans.
Castillo thanks an executive order given by president Solis. The measure dictates modifying internal regulations so that they don't discriminate people because of their sexual preference. In consequence, government officials gave two months to public workers for adopting new policies that avoid intolerance. The government presented in May 2015 the measure as one of the first anti-discrimination actions.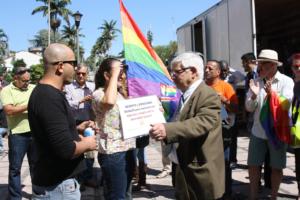 Another action applauded by Castillo was a government directive that guarantees necessary treatment for HIV patients. This measure ordered two years ago ensures that people with AIDS get retroviral medication for the disease. As a health policy, it supports persons within the LGBTI community as well as individuals outside of it.
Castillo concluded that the government has helped the community with what it can. Yet he laments that the congress isn't so active about these kinds of directives. More importantly, he regrets the few steps forward the country has on same-sex unions. "We've got to acknowledge that the PAC doesn't have the majority in congress", he ended.
LGBTI community has still many battles to fight
As with many minorities, conflicts occur and in Latin American cultures even more. In November 2015 two women married in Costa Rica using a nifty trick. Laura Florez-Estrada and Jazmín Elizondo united legally but one of them was declared a man in the documents. This started a turmoil that ended in legal actions against the notary and the two women.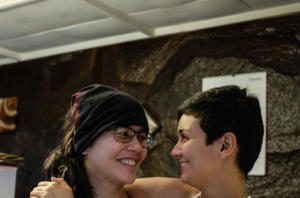 A  representative from the Costa Rican Vital Records said that the couple broke the law and could face charges. "We believe that if the persons involved knew the marriage was same-sex, we can take legal actions against them", he said.
The representative also mentioned that charges may lead to a two-to-six-year sentence. Those who marry knowing that their union has an impediment of nullity are simply breaking the law, he concluded.
The case ended in a document correction and awaits annulment from a family judge. It was later discovered that Elizondo was written in the marriage papers as a woman. However, her documents from 2003 say that she's a man, that lead to the mistake and the subsequent confusion.
Western society is still very young to accept LGBTI fully. The most belated countries are right here, America is such a mix of cultures and different ways of thinking. The worst results come when you try forcing change, so let's take it little by little. Earth is a big place and there's space for everyone. Where we need some more space is in our minds, and accept that different can make people better.
After all, doesn't nature tell us that coupling is best when we have differences? Let's just embrace and not reject anyone that's dissimilar from what we are.