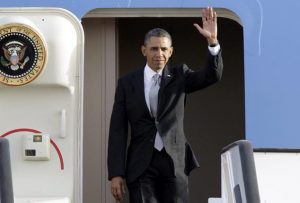 Air Force One, carrying the U.S. president, Barack Obama, landed in Costa Rica at the Juan Santamaria shortly after 1 pm today.
Obama went to the Foreign Ministry for a meeting with President, Laura Chinchilla and Foreign Minister Enrique Castillo.
Later Chinchilla and Obama will give a press conference at the National Cultural Centre (CENAC), before heading to the National Theatre for a dinner meeting with the other presidents of SICA.
Tomorrow, Saturday May 4th, Barack Obama will meet with Costa Rican businessmen before leaving the country around mid day.
[Source: CrHoy.com]
The Costa Rica News (TCRN)
San Jose Costa Rica