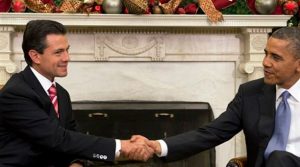 President Barack Obama said Thursday the U.S. will cooperate with Mexico in fighting drug-trafficking and organized crime in any way Mexico's government deems appropriate. Mexican President Enrique Pena Nieto emphasized that the security relationship must be expanded to focus on trade and commerce.
Appearing alongside Pena Nieto at a news conference, Obama recommitted the U.S. to fighting the demand for illegal drugs in his country and the flow of illegal guns across the border to Mexico, even as the southern neighbor rethinks how much access it gives to American security agencies.
The two leaders met Thursday on the first day of Obama's three-day trip to Mexico and Costa Rica, his first visit to Latin America since winning re-election.
Obama is promoting jobs and trade, not drug wars or border security — as the driving force behind the U.S.-Mexico relationship.
On Friday, after speaking to Mexican students, Obama head to Costa Rica for talks with Central American leaders. His meetings there are expected to focus on bolstering regional economic cooperation, as well as security issues.
The Costa Rica News (TCRN)
San Jose Costa Rica