Everyone has a different idea of the perfect vacation: some want excitement and local culture, while others want to disappear and enjoy the natural surroundings without distraction. No matter what you're looking for, there's a rarely showcased part of Costa Rica that can offer you all these things and more: Golfo Dulce.
Located in the South Pacific region of Costa Rica, Golfo Dulce is an important port entrance while also being a highly protected environmental area in the Osa peninsula. Golfito is the largest city found along this gulf and acts as main terminal for imports and exports. Even with the substantial boat traffic, the "sweet gulf's" waters are strictly regulated by law since it is an endangered breeding ground for needlefish, among other sealife, making it a true dichotomy for both sustainability and business.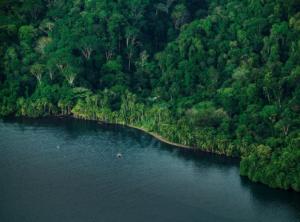 Another popular town that calls Golfo Dulce home is Puerto Jimenez.  This small but happening Costa Rican city is a popular hangout and gateway to Osa surfing destinations thanks to its proximity to Matapalo and Pavones, among others.
Both Golfito and Puerto Jimenez are launching points for one of the most secluded and serene locations in Costa Rica: Playa Cativo. This small and relatively unknown beach is nestled against Piedras Blancas National Park, which is similar to Corcovado in terms of biodiversity and inaccessibility, but much less traversed.
From these cities it's possible to take a beautiful 30-minute private water taxi to Playa Cativo, compliments of the luxurious Playa Cativo Lodge. This boutique hotel is one of the rare commercial properties allowed in the national park, thanks to its roots dating well into the early 1900s and largely in part to its complete commitment to environmental sustainability and off-grid mentality.
As you near Playa Cativo, it's clear that this eco-hotel is tucked into a pristine jungle paradise and a boat is the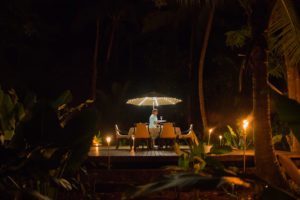 only way in or out. When you pull up to the camel sand and towering palm trees, you're greeted by the hotel's staff, who have literally rolled out the red carpet in the form of a red metal step bridge so you can go from boat to sand without getting wet.
A fresh tropical blended beverage and cool towel to wipe your face are made available as you are shown your room and the impressive facilities, adding to the warm 'hola'. Upon first impression, the rooms have the feel of a luxurious open-air treehouse with every imaginable amenity and detail, down to personalized commemorative aluminum water bottles. There are no windows; instead, totally open half-walls provide an uninhibited 180 degree view of the calm gulf waters and stunning manicured grounds while enjoying the constant sea breeze. From this vantage point it's also possible to see a whole host of wildlife, from dolphins to Capuchin monkeys and everything in between, all without having to put pants on.
You will, however, want to leave the room eventually to grab some food at the hotel's gourmet restaurant. The Costa Rican fusion menu offers several options and multiple courses that will blow your taste buds away at every meal.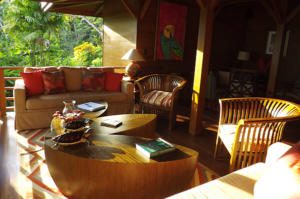 Plus, most of the fruits vegetables that are used come from the hotel's carefully curated on-site organic garden or from trees scattered throughout the property.
Once you've had the opportunity to tour the grounds and soak in the serene vibe, it becomes clear that Playa Cativo takes environmental sustainability very seriously, living at one with the surrounding jungle. For starters, the hotel is completely off-grid, powering itself solely from solar panels and hydroelectric energy. In order to save this precious energy, they have a "no ironing" policy: apparently, one hour of ironing uses an entire day's worth of overhead lighting just to get rid of a few pesky wrinkles.
The hotel also recycles or composts almost 100 percent of its waste. They've even started a recycling program for those who live or work in the area.
A few days in this quiet and relaxing place is the perfect vacation cure for anything that ails you: adventurers can get out on the water by kayak or hike Piedras Blancas, and those looking to decompress can get a total taste of Costa Rica without having to leave their bed.
If you've been looking to explore Costa Rica in a way that many rarely do, make Playa Cativo and the Golfo Dulce your first stop – and possibly your last.
Contact the Playa Cativo Lodge for more information on how to have this unique and luxurious experience for yourself.
Phone: (Costa Rica): +506-2200-3131 | (From USA) 508-745-5779 
Email:  [email protected]
Or for other amazing Costa Rica travel opportunities, contact us today!
[gravityform id="1″ name="Contact Form" title="false"]