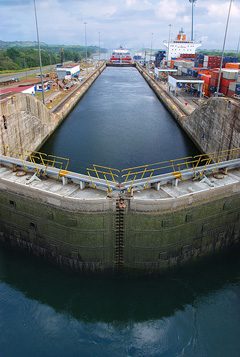 TheCostaRicaNews.com.
Central America is known for some of the world's best diving sites, lush rainforests and active volcanoes as well as for its ancient Mayan temples. And, since Central America is also the home of one of man's most significant technological marvels: the Panama Canal, travel to this fascinating part of the world can be made by land or sea.  Because of this, Central America is fast becoming a hot spot for tourists looking to experience the very best of both natural and man-made sights.
Panama
Perhaps the best known country in Central America because of the Panama Canal, this country is becoming one of the most visited countries in the world for many other reasons as well. It is considered one of the most beautiful and diverse countries.  Panama is also one of the only places in the world where you can see both the Atlantic and Pacific oceans.  And, of course, the Panama Canal, an astonishing example of human ingenuity, tops every traveler's must-see list.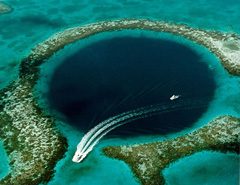 Belize
Both beach lovers and adventurers a like head to Belize.  Situated between thick jungles and the crystal waters of the Caribbean Sea, the diverse wildlife and picturesque shores as well as several significant Mayan sites lure many tourists here every year. Divers also come to Belize to explore the famous Great Blue Hole, one of the most amazing dive sites anywhere on earth.  Inside this hole the water is 480 feet deep, the depth of water is what creates the deep blue color.
Costa Rica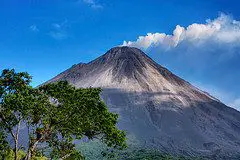 Those looking for one-of-a-kind encounters with nature should choose Costa Rica.  With its 26 national parks, tropical jungles, crater lakes, waterfalls and smoldering volcanoes, the natural sights of Costa Rica are the main reason many travelers come here. One of the popular attractions is Arenal Volcano, the youngest volcano in Costa Rica. After it erupted in 1968, it is one of the most active and threatening volcanoes in the world.  And no Costa Rica adventure would be complete without an exhilarating flight over the rain forest canopy on a zip-line.
El Salvador
El Salvador is known for its natural beauty and colonial character, as well as for its fabulous art. History enthusiasts should visit the Museum of the Revolution, which tells the story of the country's civil war era. El Salvador (especially El Sunzal) is also quite popular for surfers because of the many magnificent beaches available. It's no wonder that this country is becoming known as one of the surf capitals of the world.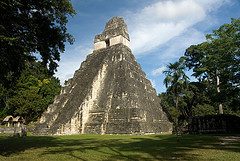 Guatemala
Numerous ancient Mayan sites as well as an amazing coast with top-notch hotels attract tourists to Guatemala; the country is steeped in pre-Columbian history but also offers modern services. Visitors interested in history can explore the perfectly preserved colonial architecture in Antigua, one of Guatemala's most beautiful cities. However, Guatamala's most famous landmark is the Volcan de Agua, a majestic volcano. And among Central American Mayan sites, Tikal is known as one of the greatest urban achievements of the pre-Columbian Maya civilization.
Central America is a great place to visit and each of its seven countries is packed with stunning natural and cultural attractions.  Many travelers say it's the beaches that draw them there and, with beaches spanning two diverse coastlines, the beaches of Central America are truly unbeatable; however, between the ancient ruins, rainforests, volcanoes and beautiful cities, there is really no end to Central America's attractions and there is something amazing for everyone, no matter whether you are an adventurer or one who prefers a slightly tamer travel experience.