In the last days, flooding and many mudslides have been reported across the country, however, according to the authorities, this week is expected to be even worse because of the impetuous rain and damages in the roads.
Added to the anual rainy season, the 42tn tropical wave is starting to take its toll on Costa Rica. This means the rainy season will last longer affecting the major part of the Tico's territory.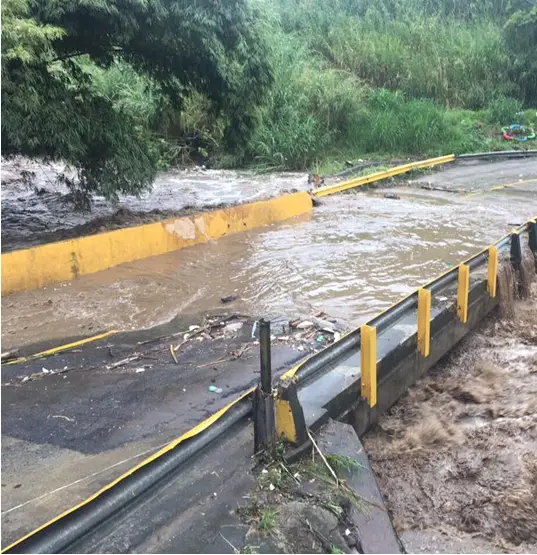 According to the Operations Chief of the Emergency National Commission, the tropical wave will bring more precipitations, thus more mudslides and possible flooding events.
"The roads and the soil are already saturated by the precipitations. We are through the rainy season but we also have to face the new tropical wave which may cause mudslides and flooding. This natural phenomenon will absolutely intensify rains in this season" –
Five regions are under yellow alert levels and three might be in orange alert soon because of an increase of precipitation. These regions are situated in Central Valley (Valle Central), North and South Pacific.
48 out of 81 cantons affected by this natural phenomenon
583 storm-related incidents have been registered since Sunday in 48 of 81 cantons.
199 shelters were available in four provinces until Tuesday night. The largest shelter is located in Barrio Mexico, San Jose, provisional home of 66 people. The last one is also located in the same city.
Two main roads have been blocked by rocks, according to the Public Works Ministry: Interamericana Sur (route 2) between Buenos Aires and Palmar Norte. This route has been under re-construction for three days.
The other two routes are closed because two bridges collapsed: The Paulina Street bridge (in Santa Barbara de Heredia) and the one that connects San Francisco de Dos Rios to Zapote (also known as "los moteles")
"Bajo Los Ledezma" bridge has also been struck by the rain. It will be possibly closed if rains don't stop.
David Melendez, Director of the Emergency Department has informed about other routes that face restrictions:
414: it connects La Suiza with Grano de Oro in Turrialba.
118: it is situated between Alajuela and Poás, near Rosales River.
723: route between Carrillo and Poas.
Emergencies have also been reported in public and private schools.