With the Osa Peninsula home to 2.5% of the world's biodiversity, you can bet that touring the National Parks of this nature-filled area will be a highlight of your trip! Jaguars, pumas, ocelots, giant anteaters, howler monkeys, white-faced capuchin monkeys, spider monkeys, crocodiles, are just a few of the many exotic animals that can be found trotting around the jungle.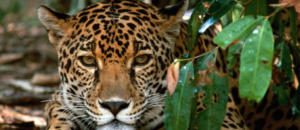 To avoid a day full of rain showers, the ideal time of the year to visit the national parks are during Costa Rica's dry season which runs from mid December until mid April. The National Parks located in these areas are a haven for plants, animals, and nature lovers who wish to appreciate the beauty that Costa Rica has to offer.
Corcovado National Park
Corcovado is the magical place where Costa Rican jungle meets the picture perfect beaches. This National Park now requires visitors to be guided through the trails for safety reasons. Guides here are very informative and knowledgeable about all animals that can be found in the Park. The cost of a guide can range from $50-$150.
Hiking to a hidden waterfall, spotting a snoozing tapir, seeing a family of monkeys interacting closely, and jumping into a pool of water to cool off from the day are a few of the many things that may fill up your day in Corcovado.  A day in this Park guarantees that you will see a variety of different animals in their natural habitat, and enjoy an experience that will last a lifetime!
Piedras Blancas National Park
Piedras Blancas National Park is located next to the town of La Gamba on the Osa Peninsula. Before becoming it's own separate park, this Park was originally part of the Corcovado National Park. Exotic birds, curious mammals, and scaly reptiles can be found crawling along the forest floor or fluttering about amongst the trees. This untampered and untamed forest is home to multiple species of wild felines, and is an absolute paradise for the bird watching enthusiast.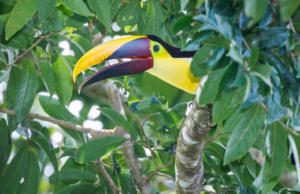 With an entrance fee of only $10.00, this National Park is a great way to spend a day exploring this vivacious forest, and spotting its peculiar inhabitants. Slap on your sunscreen, pack plenty of water, bring your favorite snacks, and get prepared for a day full of adventure and fun!
La Amistad International Park
La Amistad is uniquely split between Costa Rica and Panama, which is why it is an International Park. Being the largest nature reserve in Central America, it holds 20% of the region's species diversity. The remote location of this national park can make it quite a hike to get to. But previous visitors proclaim that it's absolutely worth it! This Park is suited for those who are well-adjusted to nature, and are inclined to take on challenging hikes. One can surely navigate the terrain without a guide. However, for those who wish, local guides are available, and provide a wide range of knowledge on the wildlife that encompasses the area. Extending your trip to the deep south of Costa Rica will be well worth it and easy on your budget. Shimmering streams, blue butterflies, and crystal clear pools of water could be in your near future!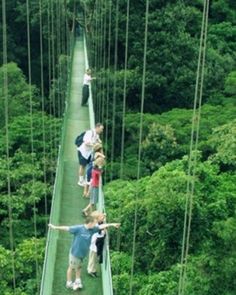 Written by: Sarah Elena https://therussianwanderer.wordpress.com/