To Our Readers:

Since we received such an enormous positive response from my first article, I decided to write another one. This time on Montezuma! Feel free to provide additional information to what is presented here and if you'd like us to write about a particular area in Costa Rica, let us know!

Lance Harrell
Editor in Chief
Location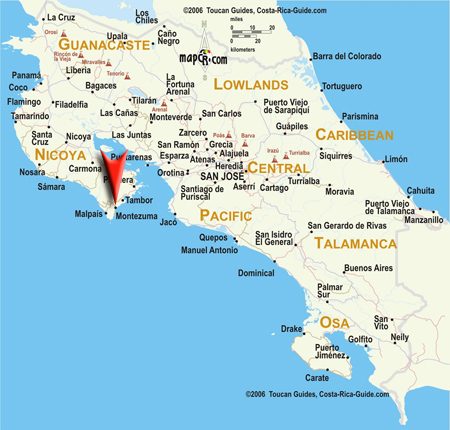 Some History and Facts
Founded about 27 years ago by a group of North Americans.
Close to Reserva Natural Absoluta Cabo Blanco
Several of the most beautiful beaches in Costa Rica lay within walking distance.
There is no bank or ATM in Montezuma with the closest one in Cobano.
Getting There
By Air: The nearest airport is in Tambor about 17km (11 miles) away, with both Sansa and NatureAir providing daily flights for around $60 USD each way. Taxis are usually there to met you and the fare to Montezuma can be anywhere between $15 and $25 USD.
By Car: The easiest route to take is the Interamericana Highway from San Jose to Puntarenas, where you will take the ferry across to Paquera before heading south to Montezuma. The total trip takes about 6 hours. There are two ferry options in Puntarenas, the Paquera option will get you closer to Montezuma and save you from taking the bumpy dirt road from Naranjo. Ferrys leave approximately every two hours from 5am to 8pm, but I suggest getting there early as the lines can be long. The cost for the ferry is about $10 USD.
By Bus: The cheapest way to get to Puntarenas is by first taking a direct bus from San Jose to Puntarenas. Buses leave every 40 min between 6am and 9pm from Terminal Puntarenas located at Calle 16 and Avenita 12. The fare is $3 USD and the trip takes about 2.5 hours. Take the ferry across to Paquera ($1 USD, 1 hour) and grab one of the Montezuma bound buses that is waiting for ferry passengers ($3 USD, 2 hours).
The Trip
I wanted to get to Montezuma as early in the day as possible so I arrived outside the Terminal Puntarenas bus station at 5:15am. The doors didn't open to the bus station until 5:30am and the first bus didn't leave until 6am ($3 USD). There is a decent sized Mus Manni (bakery) inside the station where you can pick up some breakfast or a snack for the trip.
TRAVELERS TIP: There are two types of public buses in Costa Rica, express (directo) and regular. Express buses only make a few stops, perhaps 4 or 5, whereas regular buses pickup and drop off people at 20-30 stops. Make sure you get a "directo" bus to Puntarenas as they take 2.5 hours compared to the regular buses which take about 4.5 hours.
Once I arrived in Puntarenas, I grabbed one of the many taxis for the 4 minute, $2 USD ride to the ferry dock. You can also take a special bus that runs back and forth to the dock, but I was at the dock a good 30 minutes before the bus arrived and I always like to be early.
The fare per person is about $1.25 USD and about $10 USD for a car. If you are driving a car, only the driver is allowed to be in the car when it is driven onto and off of the ferry. There are a few different ferries, one large ferry and one medium sized ferry. I took the smaller one to Paquera (pictured below) and the larger on the way back. The larger one had a completely enclosed air conditioned deck and a full concession stand.
The one hour crossing was pleasant and there was a bus to Montezuma waiting once I arrived, only ONE bus. Try to get off the ferry ASAP because the bus filled up fast and I had to stand in the aisle for the 1.5 hour ($3 USD) trip to Montezuma.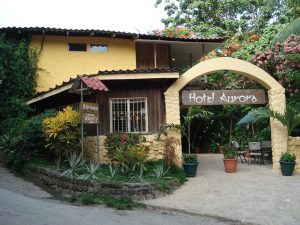 I arrived around 3:30pm and wanted nothing more than a shower and a nap, so I went straight for Hotel la Aurora, where I spent both nights. I really liked this budget hotel and highly recommend it. It was clean, close to the center of town, had an in room mini fridge, a nice common area with a communal kitchen and the staff spoke English, Spanish and German. Green season rates vary from $25-$50 USD based on the room and whether you want hot water and/or air-conditioning. I opted for both the first night and paid $40 USD, but didn't use the A/C at all since all rooms have a wall mounted fan which was more than adequate. Pictures of the Hotel are below.
After my rest I went down to see Playa Montezuma (pictured below) and the town itself. It was very picturesque, but compared to other beaches in Costa Rica it was about a 5/10 as the sand was mostly rough crushed coral, the water turgid and the beach was rather small. However, Montezuma is within walking distance of some of the most beautiful beaches in the country including Playa Grande and Playa Cedros.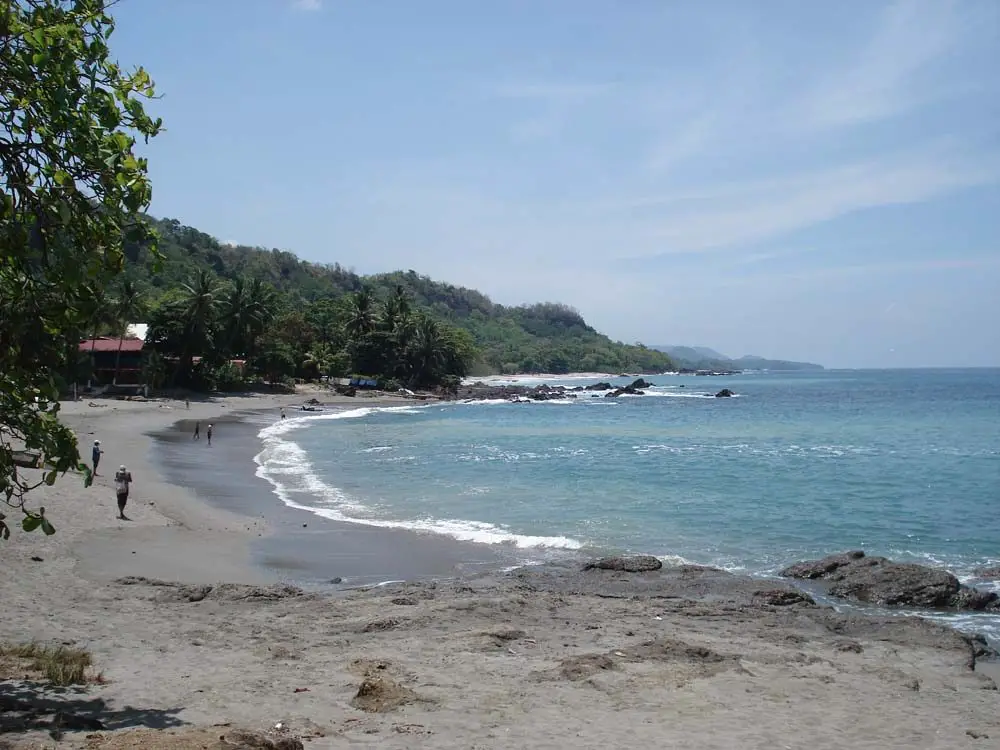 While there are several more isolated hotels, restaurants and shops scattered along the beach road, there are only two main streets in Montezuma and they intersect in a rough "T" shape. They are pictured below.
That night I grabbed some dinner and a few drinks at Chicos Bar, arguably the most happening place in this tiny beach town. The atmosphere is much like the rest of Montezuma, laid back, tables outside on the beach, etc. Drinks were about $4 USD and the food was good and of average price for the town at $6-$12 USD a plate, but I found Montezuma to be about 35% more expensive than other Costa Rican beach towns (excluding Tamarindo of course). On both Friday night and Saturday night Chicos was packed with tourists and locals alike, all dancing to a combination of salsa, reggeaton and hip-hop. Don't be surprised to trip over a dog or two on the dance floor as they seem to love the energy of the place as well.
TRAVELERS TIP: Men be aware! Especially in these smaller towns people of all ages freely wander in and out of the bars, including many young teenage girls (12-17), so don't assume that the girl eying you up from across the bar with a beer in her hand is of legal age simply because she is inside.
The next morning I grabbed breakfast at Moctezuma Bar and Restaurant where I also had lunch once I returned from the Montezuma Waterfall. The food was good and the prices average for the area. The view is the best in town with the sitting area right up against the beach.
The Montezuma Waterfall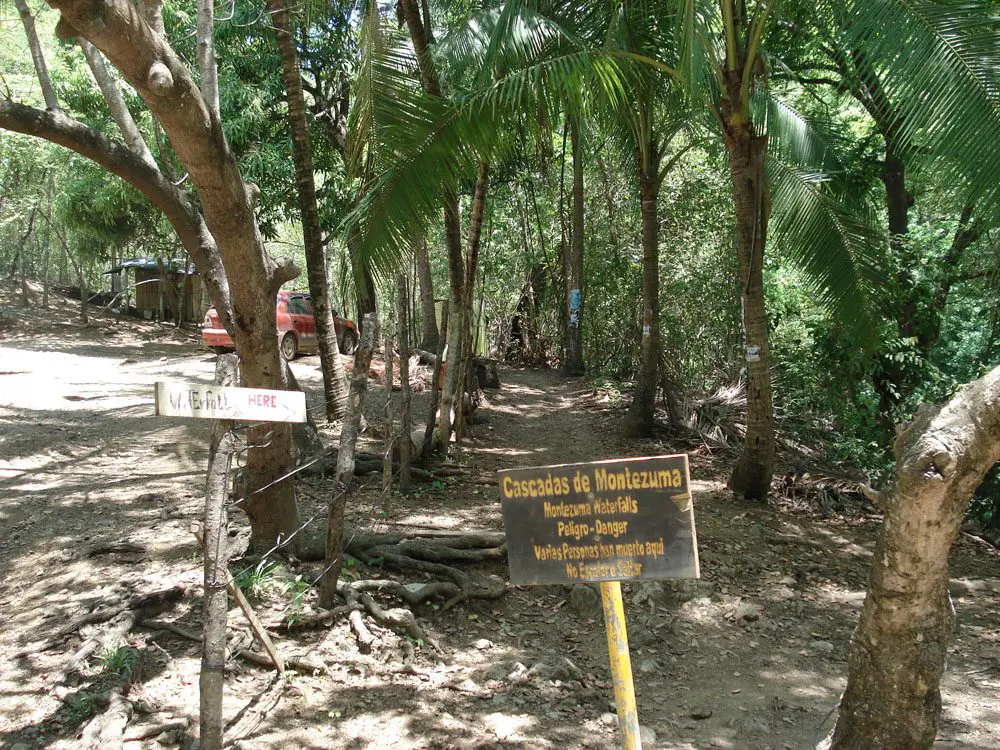 The hike up to the main waterfall is fairly easy and can be accomplished by almost anyone, however remember that this is a rain forest hike, so wear decent footwear. Flipflops are NOT a good idea here. The main waterfall has a small swimable pool at its base, but it is not that deep, so diving from the rock face is dangerous. Several people die here every year, don't be one of them.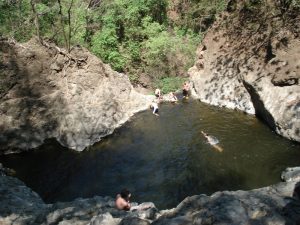 There is a much more strenuous trail that leads up to two more waterfalls above the main fall. This should NOT be attempted unless you have hiking shoes and are in good physical condition! The beginning and ending of the trail is steep, requiring the use of both your hands and feet. It is actually more like rock climbing without a harness than hiking. There is a rope to help you during the descent to the upper fall, but one slip and you plummet up to 100 feet down onto jagged rock. Once you arrive however you are rewarded with two beautiful pools that are fairly safe to cliff dive into.
That night I met up with some friends and we had dinner at Tairona Restaurant. The pizza was fantastic and the salads looked wonderful as well. The price was a little more than the average for the town, but not much.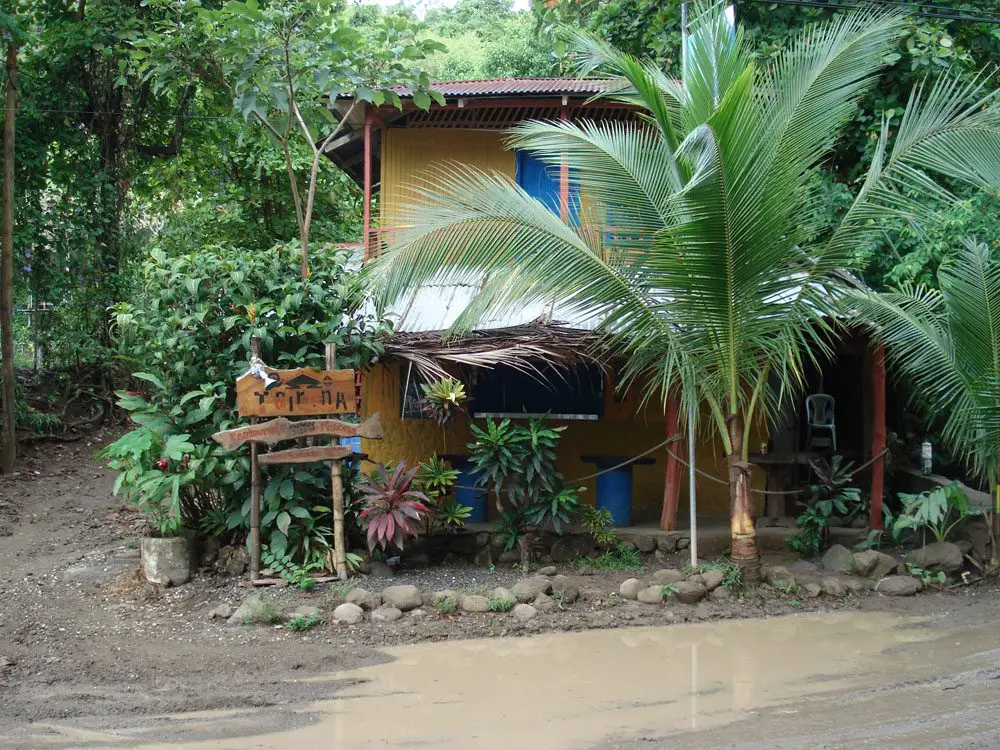 After dinner we danced the night away at Chicos Bar and I caught the 8am bus back to Paquera and took the ferry back to Puntarenas, where I caught the bus back to San Jose.
Budget
I arrived in Montezuma on Friday at 3:30pm and started back to San Jose at 8am on Sunday. During those 40 hours I spent a total of approximately $136.00 USD. That included two nights hotel ($70), transportation to and from Montezuma ($18) and four meals ($48). Extremely reasonable for the amount of time.
More Information
If you'd like more information on anything presented in this article, please contact us using the form below:
[gravityform id="1″]