This beautiful 3 bed / 3.5 bath luxury home is one of the newest turn-key properties in the region and meets the highest quality standards.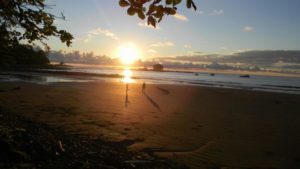 Prime location in Dominicalito, within walking distance to the beach, surf, restaurants, and waterfalls.
This immaculate luxury home was completed in January 2015 and represents one of the best deals on the market for the discerning, luxury home buyer.
All the components are in place – Best location -World-class ocean views -Top quality construction -Easy access, which leads to the highest overall appreciation.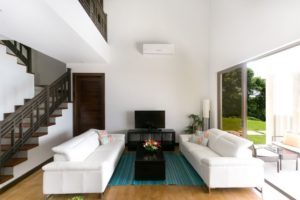 The style of the luxury home is a mix of Modern / Spanish Colonial and a perfect fit for the lush, jungle that surrounds the property.
Modern interior, large windows, high ceilings and an infinity pool create an environment in which the owner can entertain and enjoy….they won't want to leave!
The interior has a modern twist and offers spacious common areas and bedrooms that provide comfortable privacy for you and your guests.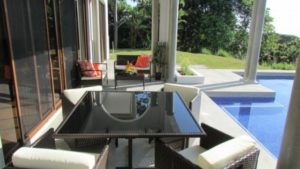 The covered outdoor living area and infinity edge pool is where you will be spending a majority of your time.
Great airflow and ocean breezes allow for passive cooling and minimal use of the A/C.
The access is easy, 2 wheel drive from the highway and takes under two minutes.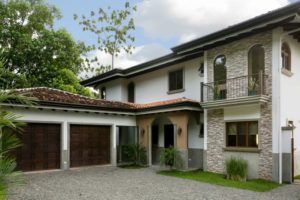 The ocean views are stunning – Dominicalito Harbor and, looking to the NW, whitewater crashing all the way to Manuel Antonio.  Year round sunsets will warm your soul as you reminding yourself that "Life is good"….very good.
If you are looking for the perfect retirement home or an excellent income producing rental home, don't miss this opportunity for $ 3,500.00 / week…
Amenities
Dishwasher
Washer/Dryer
Covered Balcony
Cable/Satellite TV
Patio/Deck
Central Air Conditioning

Ocean View
Ocean Frontage
Mountain View
Wooded
Swimming Pool
Gated Community
Contact us at info@TheCostaRicaNews, by WhatsApp at +50688180262 or click here for more information today!
Error: Contact form not found.