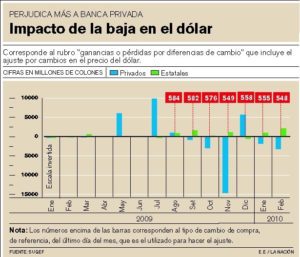 by TCRN Staff
The sharp depreciation that has taken the dollar against the colon since August last year, have taken their toll on the finances of private banks.
The impact of this exchange can be seen since last September, when the fall in the price of U.S. currency intensified.
In fact, between that month and February 2010, private banks accumulated losses by about ¢17,600 million.
Only the first two months of this year, institutions had to include in their statements of income loss of about ¢5,000 million.
Banks incorporate those losses in a heading called "gains or losses on exchange. This is just one line in their income statements, which include all your income and expenses.
The falling dollar has also caused a reduction of their total earnings.
For example, in the first two months of this year the private banks reported earnings for ¢1.975 million, barely a quarter of those obtained in the same period in 2009.
Equity is the difference between assets and holdings of the banks (eg, loans) less liabilities, which are debts (eg, collection of the public).
If the dollar falls in a month for the previous one, the assets of the entities is lower and they should include that difference as a loss.
Between August 2009 and February 2010, the reference price to purchase the dollar, which is used to make adjustments, decreased by ¢35, or about 6%. The present situation hits private banks more because they hold a greater share of their assets in dollars.
For example, BAC San Jose, the largest among private banks by assets, last February had nearly 90% of its assets in dollars, Scotiabank, the second largest, 77% and HSBC, the third, 55%.
In the first two months of this year, BAC San José reported losses from ¢1.659 million just for the effect of the devaluation of the dollar which influenced their total winnings were from ¢ 1.345 million, 63% less than those in the first two months of 2009.
In the same period, Scotiabank reported a loss of ¢ 1,370 billion by the appreciation especially of the colon and total losses for ¢ 40 million, which contrasts with earnings of ¢ 663 million it earned in the first quarter last year.
HSBC recorded a deficit of ¢ 669 million in "profits or losses from exchange differences" and a total loss of ¢ 583 million in the first two months of this year. In contrast, in the first quarter of 2009 had achieved total revenues for ¢ 928 million.
Gerardo Corrales, manager of BAC San Jose, confirmed and explained the situation with most of their assets in dollars because "the economic fundamentals point to a devaluation of local currency. What we see is a temporary situation or speculative. "
The state bank has very little equity in dollars. The National Bank, the largest, is the policy of holding dollar assets equal to its liabilities in that currency, so their assets in dollars is almost zero.