When Pastor Dexter Lambert made his first mission trip to Costa Rica in May 2007, he was shocked by what he found.
Through a family he knew, Mr. Lambert had connected with Maria Del Valle, an elder and the missions coordinator for Centro Cristiano Oasis de Bendicion, to organize a mission trip to Upala, Costa Rica.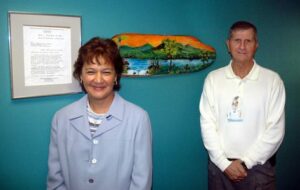 What they saw there would spur the creation of Foundation for Latin American Missions & Evangelism — a joint endeavor between Oasis de Bendicion in Augusta and Grace Fellowship in North Augusta, where Mr. Lambert is an associate pastor.
Soon after arriving in Upala, they went to a rehabilitation center. When they went in, what they saw wasn't what they expected.
"Wheelchairs with plastic lawn chairs as the seat and exercise equipment we would probably throw out here. There was not much else," Ms. Del Valle said.
They returned with a desire to help, said Mr. Lambert, who is also a chaplain with Trinity Hospice and Walton Rehabilitation Health System.
"After I saw that center, that house, the first time, flying back I thought, there's got to be something we can do," he said.
After he returned, he spoke with Dennis Skelley, the president and CEO of Walton Rehabilitation Health System, about donating wheelchairs, walkers and crutches, and Mr. Skelley agreed.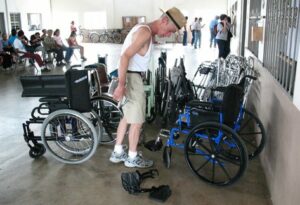 Since 2007, the foundation has made several trips to Upala to provide guidance on the construction of a new rehabilitation center, donate medical equipment and serve the community in other ways.
"This is an ongoing project that seems to have taken a life of its own," Mr. Lambert said. "Every time I think it's waning, it seems something new and different opens up."
Ms. Del Valle agreed. "Every time we go down there, another door opens," she said. "We just walk through it."
The group left Saturday to return to Upala for a pastors' conference; speak with the Maleku tribe and a village of Nicaraguans about their needs; and attend the dedication of the new rehabilitation center.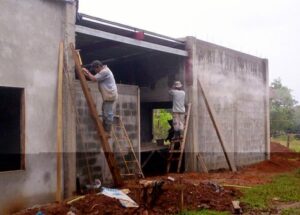 The president of Costa Rica is expected to attend Saturday's dedication and meet with the group. They'll help prepare space for a shipment of medical equipment from Walton's warehouse. The shipment includes wheelchairs, crutches and walkers as well as mirrors, beds, exercise tables and a driver-training simulator.
Mr. Lambert estimates the total cost of the donated equipment to be about $20,000.
The foundation has attracted volunteers who want to go on the mission trips to help with the Upala Project and other efforts, he said.
"We don't pay anyone's way. Everyone pays their own way, and we tell them that up front," he said. "Right now, we have a waiting list of people wanting to go on a mission trip."
The group plans to expand its efforts to other Latin countries, Ms. Del Valle said.
If you would like to participate in future mission efforts or make a donation, call (803) 215-7965 or (804) 467-5282 or e-mail [email protected].