Did you see that Star Wars movie, Return of the Jedi?  What did you think of that amazingly cool Ewok village?  Would you like to actually spend time in a treehouse, nestled into an eco-village that looks so much like that Ewok village?  The dreamers and visionaries at Finca BellaVista Treehouse Community (FBV) have done just that.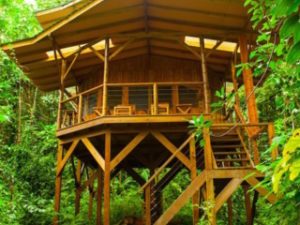 They had a dream of creating a special home which humans could share with the other inhabitants of the rain forest.  It took 10 years of sacrifice, determination, and hard work to develop their dream into a reality.  The off-grid paradise covers almost 600 acres, and includes some spectacular trees, whitewater river frontage, organic gardens, and an entire peninsula of rain forest.
Erica has taken the time to share with us about her journey of turning a dream into a reality.   For a quick video tour, check this out  https://vimeo.com/22217881
What brought you to Costa Rica?
My partner, Mateo, came here on a surf trip with friends in 2006, and then called me to come join him and check it out on vacation.
Where did this vision originate?
To be 100% honest, it was just an idea that popped into my head after seeing the property for the first time. Mateo and I had been considering buying a little getaway to escape the Colorado 'mud seasons'. We were originally thinking of a 'fixer-upper' surf shack, or a small piece of land that we could later build on. He made a list of places to explore, and we spent my 29th birthday looking at properties. We ended up here at the end of the day – I'm not sure why it was on the list as it was 62 acres, and well beyond our means or needs. We walked a bit of the property's river frontage, and felt really drawn to it.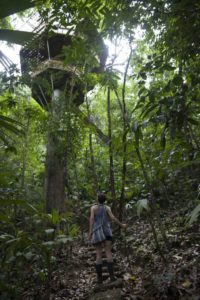 Knowing that it was being marketed as a timber harvest site, we assumed that if we didn't buy it, someone would just to cut the trees down. We also naively thought that it was a pristine rain forest, and felt compelled to try to find a way to save it.  We found out later that the portion we were on had been cut a couple of times. That night we were having my birthday dinner, and brainstorming ways to afford it. I recalled that the trees on the property were spectacular, and threw the idea of building a treehouse on the table for discussion. I then wondered out loud if friends or other people might be interested in going in on the property cost to make it more financially feasible… and maybe they would like to build a treehouse too… And wouldn't it be cool if each treehouse was connected with ziplines and bridges? I envisioned building an Ewok village from Return of the Jedi.
I remember thinking as I looked across the table at him, "this would be the moment in my life that I would look back on, and remember when everything changed'. And it did!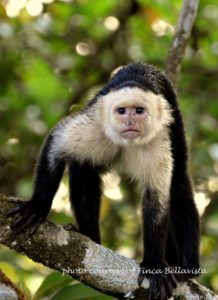 Ten years later, the property is now close to 600 acres, and is a combination of secondary and primary growth rain forest, and recovering pastureland. 140 acres of the landmass is subdivided into residential parcels that we sell, and then help people design and build their dream treehouse on. We have a property management company that cleans/maintains/markets/reserves their properties for them when they aren't here, an on-site organic farm, a community restaurant, a zipline tour, miles of hiking trails, acres of gardens, rivers and waterfalls, and so much wildlife that it's hard to even explain what I see on a daily basis. It's a true tropical paradise.
What have you learned while living this dream?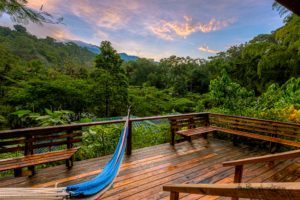 Too much to list here! Building something from the ground up provides a much deeper appreciation of things that are usually taken for granted by those living in a developed world. In a city, when you want water turned on at the house, you pay a bill and get it turned on. You don't have to think or manifest the infrastructure, or the filtering, or the treatment. Same with electricity, and garbage removal/recycling, and so many other 'necessities' that the majority of people in the world live without. You learn to appreciate how far generations of pioneers and providers have progressed things in the modern world. At a minimum, I have learned not to take things like running water, electricity, and the ability to purchase food in a store or restaurant for granted. Because providing and maintaining things like food, water, electricity & waste removal for a growing community in a remote location is very complicated to manifest.
What have been the greatest challenges so far?
Providing things like food, water, and electricity infrastructure for a growing community in a remote location. (:
The first two years, I would probably never do over again. Living in a tent, being the only woman in a work camp, not speaking the language, and having no experience or knowledge of manifesting something like this.  That learning and living curve was brutal. I think that we survived solely on intuition, being honest, and just waking up each morning and putting one foot in front of the other. Taking care of whatever issue is most pressing and right in front of us, and making sure everyone is fed, watered, and taken care of prior to succumbing to exhaustion at the end of each day. Thankfully the sun sets early in Costa Rica. (:
What are your greatest successes?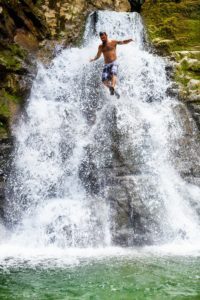 I would say that seeing our crew of employees grow has been the greatest success. Most were working a few months a year harvesting palm or hauling timber. Now we have a bilingual and knowledgeable crew of carpenters, gardeners, landscapers, cooks, managers, furniture builders, mechanics, etc. etc. They are the reason the Finca is here, and they are our biggest investment and success by far. It has been great to watch them grow a network with people from all over the world, and that started from tiny little La Florida de Osa.
Where do you see your vision evolving in the future?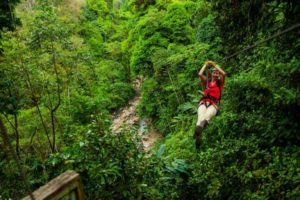 The Finca is such a dynamic creature that it's challenging to pick just one direction to evolve towards. The great thing about a community is that new people come in, bring fresh ideas and experiences, and open up the possibilities for more. A great example is Dominical, and the changes (so many positive) that have happened over the last couple of years. Not many people could have predicted how progressive the community is becoming.
Maintaining the character of the community, its intimacy and immersion, is the primary focus. What I would love to see here in the future is certainly that we get the alternative electrical grid in place and connected. An intentional group space would be super nice, which would need to be a handicap-accessible facility as well. FBV hosts a special-needs group from my alma mater, Make Promises Happen in Oklahoma, each year.  We would LOVE to see a similar recreational program take off here for our special-needs friends in Costa Rica. Nothing would bring me greater joy than to manifest that vision.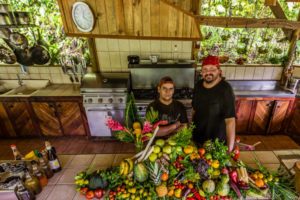 Our farm-to-table experience has a lot of room to grow, and I see this being a huge opportunity for the right people to bring to fruition.  We have a 10+ acre cacao plantation here that would be a great boutique chocolate process for people to experience. The Finca is located in the middle of the AMISTOSA biological wildlife migration corridor, and provides a great opportunity for researchers to work with conservation efforts. Some type of research facility that allows easier access, and provides a regional museum or knowledge-base would be a great resource for the region. Ideally in conjunction with the group facility.
As the Southern Zone continues to grow, there is talk of an international airport, marinas, and a lot of infrastructure and tourism growth in the Osa region. My hope is that this area develops with more intention, and at a much more sustainable pace than that of the Northern Zone. But even as the surrounding region continues to grow, I feel that our unique position on the western edge of the Talamanca Mountains will provide some sanctuary from any rampant coastal development that could occur.
Contact Erica at Finca BellaVista Treehouse Community if you would like to experience what life in a treehouse can be like at http://www.fincabellavista.com.