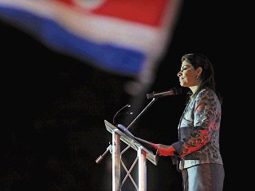 by TCRN Staff
The liberationist Laura Chinchilla Miranda Sunday became the first woman to occupy the presidential chair in Costa Rica.
This political scientist reached 46.7% strongly support, nearly doubling the votes received by her nearest contender: Otton Solis of the Citizens Action Party (25.1%)
Otto Guevara of the Libertarian Movement candidate, came in third with 20.8%.
The advantage that the verdiblanca achieved since the first preliminary results released by the Supreme Electoral Tribunal (TSE), at 8:30 p. m. Motivated the rivals to make an early admission of defeat.
"I commend Laura Chinchilla, who will be president of the Republic. Has a good defense of what to do, and hope that as the first woman president, assumes the gender equality agenda," Solis said in a heartfelt speech he gave at the headquarters of the CAP, Montes de Oca.
The trend was maintained at 10:54 p. m. with 84% of the votes counted. According to a telephone survey conducted last night by Unimer for La Nacion, four out of ten people who were supportive of Chinchilla seek "to ensure continuity of the current government."