Having an indoor garden can be complicated, especially if physically your house or apartment does not allow it, however, in recent times a new garden concept has become fashionable, we are talking about vertical gardens. These beautiful and functional gardens can be placed on the patio, on the balcony or even in many cases are being placed on the exterior walls of buildings. These structures allow to save space and also to decorate the interiors of houses where otherwise it would not be possible to have such a large variety of plants. This decorative trend can be exploited in many ways because in these gardens you can plant aromatic plants such as oregano, rosemary or chives (perfect to take advantage of in the kitchen) or beautiful flowers to beautify the home.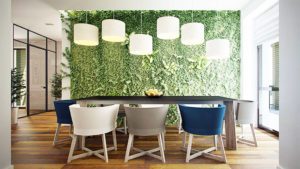 When this form of planting first appeared, some people did not understand how plants could grow vertically, however, you simply have to root the plants between the two sheets of fibrous component and thus fix it to the wall or in any case, by ground panels that are placed in this position, this being the reason that allows them to grow without any problem.
TIP: Get our latest content by joining our newsletter. Don't miss out on news that matter in Costa Rica. Click here.
Some interesting facts about vertical gardens
Although initially, it started as an idea for outdoor spaces, it has also gradually gained interior spaces. And it has not been limited to offices, hotels, restaurants or all kinds of public spaces but it has also entered our homes. Learn about some of the benefits of these original vertical gardens.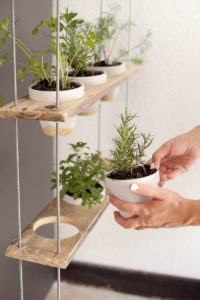 Vertical gardens can help us to beautify the spaces inside the house or outside, as in the patios and walls.
Thanks to the vertical gardens, the air is purified, because the plants are responsible for capturing the dust and particles that are floating, as well as trapping CO2 and as a result can produce oxygen.
Vertical gardens also help to isolate sound, decreasing decibels.
When the outer walls of a building meet the vertical gardens, then during the summer it will help us to lower the temperature.
There are a variety of ways to create vertical gardens, in addition to the variety of plants you can plant, you can create structures with different designs and with different costs, and you can even do recycling!
4 fabulous Ideas for building a vertical garden in your home!
Walls that grows green to bring a little freshness to any corner. Nature also wants to surround us in our home or in the office, even when we have a coffee in a bar. These environments provide a state of calm and well-being in relaxing and feeling at peace. Do you dare to discover how to make a vertical garden? Include them in your home and you will be right. We are going to discover them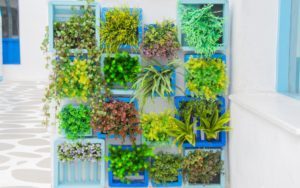 1.Boxes with wooden frames as a vertical garden
In this case, we are talking about DIY projects that you can do yourself at home without much complication: a rather flat box, a wooden frame, a bit of earth, a metal mesh and voila, you will have a beautiful vertical garden.
2 The aged wood looks wonderful!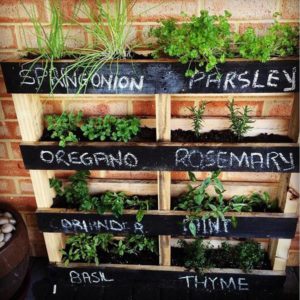 The combination of wood and plants results in a special space that will help us to give a climate of peace to any corner so they are ideal for terrace areas next to sofas or loungers. It will be our oasis of peace after a long workday. The old wooden pallets or boards can also serve as a base to create our own vertical garden on a wall and at the same time we recycle it will be beautifully decorative and original
3.Hanging vertical garden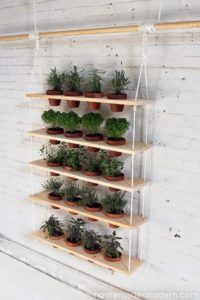 Vertical suspended gardens will give your home more freshness and lightness, to hang the pots in this way you can choose macrame pendants, an idea that is very fashionable and very decorative or suspending the pots of tubes or beams, when using a dry branch you can achieve a beautiful effect in your home! You can also use small wooden shelves where you can place or fit the pots, holding them with a thick cord of the sailor type will look beautiful.
4.Recycle plastic bottles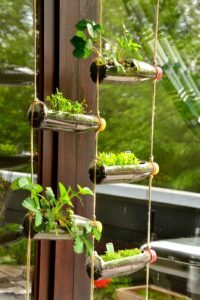 Another DIY project is to recycle bottles and use them as pots for the walls creating an original and fun vertical garden. They can be used both vertically and horizontally and decorate them, either minimalist or with fun designs, you can make your vertical garden very chic while you help the planet recycling
How you see there are many options for small or large vertical gardens, using pallets or lattices, artificial, using macrame hangers, with special pots for walls. It is sure that among so many ideas you find one that is perfect to enjoy a vertical garden in your home. With them you will be able to create a haven of peace where you can relax and rest, surely you get a lot of profit.