By Lance Harrell
On Saturday, October 24th, Costa Rica demonstrated its solidarity with 180 other countries by hosting some of the 5200 events of the International Day of Climate Action, which calls for strong action and bold leadership for dealing with the present climatic crisis.
This extremely successful event was the brainchild of 350.org, an organization "dedicated to building a movement to unite the world around solutions to the climate crisis–the solutions that science and justice demand."
350.org takes its name from the calculated optimum concentration of carbon dioxide in the atmosphere for humans, 350 parts per million (ppm), a number we are currently exceeding by more than 30ppm.
The call to action last Saturday was designed to not only raise awareness of the current crisis among the general public, but also to influence the upcoming global treaty on cutting carbon dioxide emissions that world leaders will be discussing and signing this December in Copenhagen, Denmark. 350.org feels that the treaty as it stands is not sufficient to deal with the situation and wishes to use its grassroots movement to convey the message that, "the solutions to climate change must be equitable, they must be grounded in science, and they must meet the scale of the crisis."
Costa Rica contributed to this call by hosting around 25 events nationwide, including a week of conferences on climate change organized by the University of Costa Rica, the Adpot a Tree program put on by Organización Xtrem@s, and a large gathering of environmentally conscious organizations, businesses and musicians at the University of Costa Rica.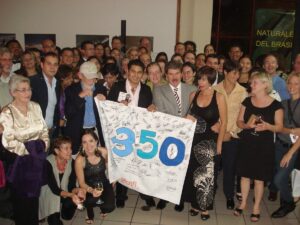 One of the premiere gatherings of the day was the Night of Hor D'oeuvres and Wine organized by the Corcovado Foundation, where an elite group gathered to discuss the global climate crisis in addition to raising money for a local environmental initiative to protect the sea turtles of Drake Bay in the Osa Peninsula of Costa Rica.
The Children's Museum made an elegant backdrop as attendees engaged in insightful and provocative conversation while enjoying delicious culinary creations from Misala, Tin Jo, Saga and Sibu Chocolate among others. The evening also bore witness to the creation of a masterful piece of art by Carlos Hiller, known worldwide for his incredible underwater landscapes, who produced the painting pictured below with almost unbelievable speed and skill. The painting was later auctioned off as part of the benefit.