Buying a motorcycle is one of the dreams that almost every man has. Most men dream about motorcycles from the time they turn 12, so little surprise that when somebody can actually afford to buy one, nothing can stop them. In addition, the motorcycle is a pretty convenient transport, despite the fact that you cannot bring large luggage with you. Instead, it is more maneuverable, and a bit easier in maintenance.
However, buying a brand new motorcycle is not a good idea. Firstly, it can turn out to be inconvenient for you personally, while you have already wasted a ton of money into it. Secondly, it will take some time to learn to drive it properly, and one or two small crashed are almost a must, while you have already wasted a ton of money into it! So, consider buying a used one as an option. Just make sure you check it right, like check motorcycle VIN number and hire a technician to look at it from the inside.
TIP: Get our latest content by joining our newsletter. Don't miss out on news that matter in Costa Rica. Click here.
Aspects to Consider When Choosing
There are some things that you have to think about regardless of whether you are buying a new motorcycle or an old one. The first aspect is the purpose of exploitation. In other words, what are you planning to do with it? Are you going to commute to the office? Or maybe take a drive to your parents every now and then? You actually want to travel on it for long distances, and go on vacations? Perhaps you are planning to become a professional racer with time? Your purpose defines the type of bike you want, even if you take a used one.
The next aspect is your own physique. Are you tall and light, short and light, short and heavy, tall and heavy? Will you be able to take up your motorcycle alone on a deserted road in case it occasionally falls down? Will you be able to control it on turns? Your weight is an important aspect, so just in case you a skinny, do not try to flaunt by buying a huge machine, because you risk not handling it on speed. It is better to buy a motorcycle with which you will be cool, not seem cool.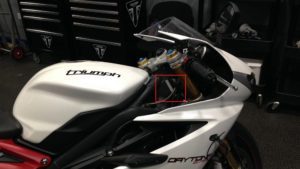 Now, if you buy a used motorcycle, consider your level of technical skills with it. If you are not into cars and stuff, you will probably need to take the bike to an automobile repair shop often. In case the motorcycle is very old, you will not save any money buying it, because another ton of money will be wasted on repair.
And, of course, check the VIN number for the bike you are planning to buy. Make sure it is not stolen, is being sold legally, has no registered damages, and no unpaid loans associated with it. VIN check is not expensive, but it will save you time and efforts.