Hacienda Pinilla is a top-of-the-line resort for travelers looking for a truly luxurious retreat.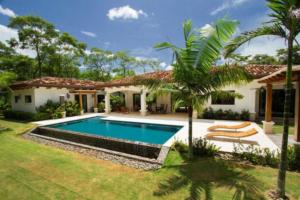 The travel all the way to Hacienda Pinilla Beach Resort and Residential Community in Santa Cruz, Guanacaste in Costa Rica is a 3 to 4 hour journey depending on your mode of travel and traffic on the given day. Nevertheless, the voyage is well worth it.
What overwhelms you the moment you enter the main gates of Hacienda Pinilla is the sheer expanse of the resort. Spread over a stretch of 4500 acres on the Pacific Coast, the tranquility and idea of space will immediately put you in a holiday or vacation mode.
The whole architecture has a Spanish influence. The landscape inside has a wide variety to offer that include 3 miles of coastline, lakes, natural forest, hills, vast expanse of valleys, wild birds and animals.
Rooms
Hacienda Pinilla offers three sizes of luxury villas ranging from two to four bedrooms each. The rooms have all the basic amenities and more, like air conditioning, cable television, internet, telephone, coffeemaker, fridge, a safe deposit box that really makes the whole package look complete.
The beds are pretty comfortable and the rooms are spacious given the property size. The staff at Hacienda Pinilla has a chilled out approach to say the least but that doesn't translate into complacency. Be it the restaurant, room service or hotel amenities, in spite of the mammoth geography that they have to cover to keep everyone happy so to say, its impressive how they successfully coordinate and provide an answer to your questions promptly; be it being unable to connect to the internet, asking for a bottle of water to your room. Is looks like there are very few things that cannot be done at Hacienda Pinilla.
Eats
The resort has five restaurant options that gives you enough of a choice for a day or two. There is one by the beach called La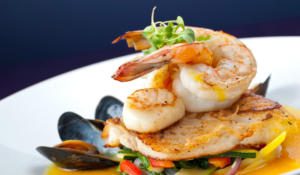 Posada that has an outstanding view of the coastline. The second restaurant is located at their in-house club house called El Corral by the golf course. A typical restaurant type of setting by the swimming pool is offered at Restaurant Avellanas. For a more party-feel you could be at the Las Palmas Ranch Grill.  And the Mandarina Lounge is a perfect place for a cocktail or a few drinks by the beach or a bar stool or a laid back pool recliner.
The good part is that Hacienda Pinilla staff is ready to go that extra mile and serve to keep you happy. So if you like a tree in the garden and want to have a quite meal or drink under it, there is an option to ask them to set up camp there too and you won't be given that dirty look when you ask them to work a little harder to please you.
Activities
Besides the typical eat, swim and sleep arrangement, there is plenty to do at the resort. In fact, even when you leave, you will have a strong feeling of coming back as definitely there would be something that you wouldn't have indulged in. [quote_box_right]Get your adrenaline on with TCRN's list of 10 Exciting Things To Do in Tamarindo[/quote_box_right]To start with, the horseback ride will give you an opportunity to see iguanas, howler monkeys, tropical birds and creepers and vines left as they should be amongst old trees, some going as back as a century, in the vastness of the forests of Hacienda Pinilla. Not just that, if you want to go creative, you can have a romantic moonlight ride or go for specific tours of the beach. Hacienda Pinilla has about 48 horses at El Establo, literally meaning the stable.
If you are one of the sports enthusiasts, fishing, surfing, snorkeling, hiking will keep you busy all the while. Or if golf is what interests you, an 18-hole professional golf course designed by world famous designer Mike Young is something worth a try at the property. There is tennis and a huge swimming pool, if you still have some more time to spare by your side.
Besides the enormous beaches that includes the Langosta Beach, Bonita Beach, Mansita Beach and Avellanas Beach, there are also five water bodies or lakes inside Hacienda Pinilla that are Las Balisas Lagoon, Los Mangos Lagoon, Los Naranjos Lagoon, Tortugal Lagoon and Gold Lagoon.
Bottom Line
With so much to offer, no wonder you see a wide array of tourists at Hacienda Pinilla. You will see old couples having a pleasant time by the pool, young love birds keeping themselves busy at the beach or taking part in the numerous activities to offer, groups of youngsters horseback riding or surfing, kids making sand castles or having a great time at the swimming pool. This is guaranteed that there is lots to offer at Hacienda Pinilla Beach Resort and Residential Community and no wonder it will leave you asking for more.
There are many ways to reach Hacienda Pinilla. You can choose to take a 40-minute flight to the airstrip near Tamarindo. By road from the Capital city San Jose, it's a 4-hour scenic drive. You can also fly to the Liberia International Airport which is just 45 minutes away from Hacienda Pinilla.