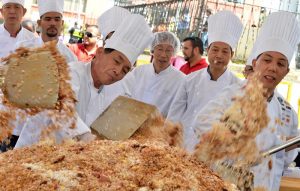 Costa Rica News – A fried rice dish was cooked weighing 1.3 tonnes on Tuesday as part of the celebrations of the Chinese New Year in San Jose Costa Rica, with a representative of the Guinness World Record certified organization that is a Guinness Record.
The fried rice was cooked in a pan of 2.5 meters in diameter required the participation of 52 chefs and 20 helpers sent to the event by 35 local restaurants. They used 735 kilos of rice, chicken 260, 230, sucker, among other ingredients, described the president of the China-Costa Rican Association, Elizabeth Yung.
TIP: Get our latest content by joining our newsletter. Don't miss out on news that matter in Costa Rica. Click here.
The contracting officer sent to the event Guinness, Ralph Hannah, said that to break the existing record for the largest Chinese rice "must have weighed more than 500 kilos and this weighs 1345.5".
The preparation took more than six hours while it was cooking and chefs around rows stretching several hundred meters of passersby eager to try the food. Organizers estimate that about 7,000 people got to eat the dish.
The event took place for the celebrations of the Chinese New Year, which this year corresponds to the Serpent in the horoscope of that tradition.
Costa Rica and the Republic of China re-established diplomatic relations in 2007. In November last year the city of San Jose opened the newly constructed Chinatown.
The Costa Rica News (TCRN)
San Jose Costa Rica