Beginning at around 3 in the afternoon on Saturday, December 11th, flocks of family and friends crowded into the streets of San Jose for the city's annual Festival de La Luz, or Festival of Lights! Every year the event brings over a million people out to share in the Christmas festivities and celebrations. The tradition has continued here in Costa Rica for more than a decade. Among the festivities is the parade that begins in Paseo Colon, and ends in El Parque de la Democracia.
This year many companies were represented by the floats in the parade. Companies such as HSBC, Hot Wheels, and Lipotec all made an appearance. Famous Ticos including Maribel Gaurdia (a Costa Rican actress who now works in Mexico) and Claudia Paul (an Olympic Costa Rican swimmer) participated in the procession as well.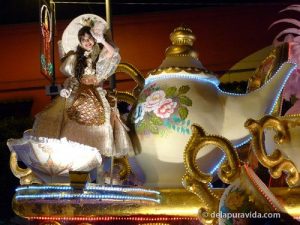 Ticos celebrate the tradition to remind their children and future generations of the importance of the holiday spirit, the significance of family and friends, and to pass on the traditions of the past. The lights of the festival represent the beginning of the holiday season and hope for the New Year to come. The event ended at around 11:00 pm with the UCR cheer team and fireworks to mark the beginning of the Christmas season! If you have never witnessed this event, I invite you to come out next year and get a sneak peak yourself at one of the most important holiday events in Costa Rica.
TCRN Contributor: Jodie Upchurch