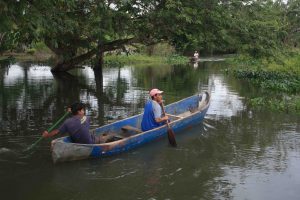 Costa Rica News – Scientific experts investigating how the border road in Costa Rica on the San Juan River border of Nicaragua affect biodiversity, denied having received funding from the Nicaraguan government in exchange for favorable results.
"We have no government funding or any institution, we are professional Nicaraguans did this effort through an interagency team," said Victor Campos Tuesday, Humbodlt Center representative.
TIP: Get our latest content by joining our newsletter. Don't miss out on news that matter in Costa Rica. Click here.
The study, entitled "Evaluation of environmental impacts caused by the construction of Route 1856-Juan Rafael Mora Porras, in the bottom of the San Juan River Basin", determined that at least 600 species of fauna and 13,052 in all, including flora, were affected, both in Nicaragua and Costa Rica.
The research was conducted in 2012 by scientists at the Research Center for Water Resources of the National Autonomous University of Nicaragua (CIRA-UNITE), the Foundation Center and the Humboldt River.
The Costa Rican Foreign Minister Enrique Castillo saidthat the study was unfounded, arguing that "the Government of Nicaragua has proceeded to encourage people of that nationality who call themselves scientists and environmental experts circulate unsubstantiated claims."
In a press conference, scientists presented the Nicaraguan methods used to research more than a year in the border area of San Juan River, whose waters are of sovereignty of Nicaragua.
"The affected items are identified, geo referenced, photographed, identified and documented," said Campos.
"The content of our work is an invitation to be proven, Costa Rica, instead of seeking disqualification, to seek corroboration impacts," explained Salvador Montenegro, director of CIRA-UNAN.
The Chancellor Castillo questioned the researchers have done their work in the San Juan river itself and the presence of these in Costa Rican territory.
Antonio Ruiz, director of the River Foundation, said his group is not only established in the area, but worked with CIRA-UNAN, and was supported by similar organizations in Costa Rica.
Campos added that the legal basis referred to Costa Rica took the "Environmental Management Plan" for Costa Rican road, the report of "recognition" and "Environmental Action Plan".
Montenegro said that the cleaning of the river San Juan, far from confronting both nations should make them work together, "because it is a topic of interest, not only in Nicaragua, also of Costa Rica".
After a trial of two Nicaraguan environmental organizations against the Government of Costa Rica, by the construction of the road, the Central American Court of Justice suspended the project in August 2012.
Costa Rican President Laura Chinchilla said she would not obey this directive.
The Costa Rica News (TCRN)
San Jose Costa Rica