By Laura Leff, TheCostaRicaNews.com.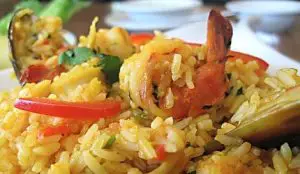 If you find yourself craving some seafood, I have just the place for you! Tucked away in the cute, quiet town of Belen, Costa Rica, sits El Dorado, a very affordable seafood restaurant that has been successfully cooking-away for over 10 years. It sits directly across from Pali (an inexpensive grocery store) on the main road heading out of Belen, going towards the Panasonic sign (located at the intersection that leads you to Santa Ana or San Rafael de Alajuela).
As you walk into El Dorado, you instantly feel the Costa Rican vibe from the abounding plants and rustic, wooden tables. Members of the staff greet you with a smile and are eager to wet your whistle with whatever you please. I always go for the fruity, natural beverages called refrescos, which are made from the fresh fruit of the day. My favorite refrescos are mora (blackberries), piña (pineapple), papaya con fresas (papaya with strawberries) and cas (a tropical fruit only found in Costa Rica).
After a few quenching sips, I am always eager to bite into a piece of the Pacific Ocean. One of my favorite dishes, arroz mariscos (rice and seafood), is filled with succulent clams and mussels, fresh shrimp, tender calamari, and sea-infused corvina (sea bass). The rice has that wonderful dirty-rice flavor that can only come from the fusion of all that flavorful seafood, marinating the rich rice one grain at a time.
If you're craving something on the lighter side, try the fresh ceviche. The abundance of lime juice gives you that refreshing, clean acidic taste that cleanses your palette after every tasty bite. Don't forget to ask for those delectable fried plantains, which function as little plates for all that yummy fish.
To heat things up once the rainy season sets in, I recommend the seafood soup (sopa de mariscos), which will make your taste buds jump around like school kids at recess time and give you that warm, fuzzy feeling inside.
Whatever you fancy when you come to El Dorado, I am confident that you will leave happy and stuffed! Buen Provecho!!