When: Saturday March 12, 2011, 10am-11pm
Where: La Campiña Country Club, San Rafael de Montes de Oca, www.lacampinacountryclub.com
Who: YOU, your friends, and these fabulous musicians:
Sonny Boy Terry & Jonn del Toro, Donnie Walsh, Steve Arvey, Los Santìsimos Snorkels, The Blind Pig Blues Band, Robbie Clark, Blues Devils, 3 for Blues, The Known Associates
Price: Advanced sales 16.000 colones, Door: 18.000 colones
Tickets will be available on February 22nd, 2011
Where to purchase tickets: Tickets can be purchased online at www.crbluesfest.com or at any of these sales points: Santa Ana (Motorpsychos Bar & Grill and The Old West Steaks), San Jose (Instrumentos Bansbach, Chicharronera Rancho Alegre, Chubb´s Sports Bar, Dunn Inn Hotel), Escazu (Instrumentos Bansbach Multiplaza, Time Out Bar & Grill , Chi-Chis Bar & Restaurant), San Pedro (Bar Rocolas Plaza Real).
Costa Rica's Only Blues Festival to Bring 5 International Acts, Original Blues Brother Included
The 4th Annual Costa Rica Blues Festival will be the largest to date with 5 international acts and four Costa Rican blues bands on the schedule. Due to the continued growth in attendance at the festival, the event will be held at a new location this year, La Campiña Country Club, San Rafael de Montes de Oca from 10 a.m. – 11 p.m. on Saturday, March 12. Bus service is available to and from the festival to accommodate attendees living in the western parts of the San Jose metro area.
The festival, a unique event in Central America, and significant to the diversity of music in Costa Rica, brings the tradition of blues festivals found in the U.S.A. and Europe to Costa Rica for the fourth consecutive year. Families and friends of all ages can come and enjoy the outdoor summertime concerts with traditional Texas BBQ and drinks.
This year's festival features headliners Sonny Boy Terry & Jonn del Toro from Houston, Texas. Terry is one of the most respected harmonica players in the U.S.A. and del Toro is the winner of the first place of the Blues Challenge at the Blues Awards of 2005 and he is also the winner of the Albert King Award for most promising Blues Guitar Player in the same competition.
Also included in the lineup is 'father of Canadian blues' guitarist and vocalist Donnie Walsh, one of two brothers that Dan Akroyd modeled the famous movie Blues Brothers after. The remaining lineup includes Seteve Arvey (Chicago), The King of the North, SAB and The Electric Storm (Canada), Robbie Clark & the Live Wire Blues Band (Austin, Texas), Los Santìsimos Snorkels (Mexico), and 3 For Blues, The Blind Pigs Blues Band, The Known Associates and Blues Devils (Costa Rica).
Highly respected international figures and true blues legends such as Guitar Shorty, Texas Johnny Brown and Smoking Joe Kubek & Bnois King have played at past festivals.
Regular daily bus service from downtown San Jose drops fans directly at La Campiña County Club upon request (must tell driver or will be dropped off ½ mile from venue). The San Rafael de Montes de Oca bus stop is located 50 meters south of Hotel del Rey. Buses will also return from the festival to downtown San Jose downtown after the event.
There will be food and beverage service during the entire event, outside food and beverage are not allowed.
For more information: Website: www.crbluesfest.com Facebook: http://www.facebook.com/pages/Costa-Rica-Blues-Festival/207222321765
Artists
From Houston, Texas: Sonny Boy Terry featuring Jonn del Toro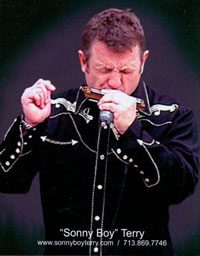 Sonny Boy
Sonny Boy Terry is a Vocalist/band leader/harmonica player/songwriter/producer and has recorded and toured with legendary blues artists Calvin Owens, Johnny Clyde Copeland, Joe Guitar Hughes, Jimmy Louisiana Dotson, Kinney Abair, Grady Gaines and many others.
As the years go on and his resume deepens, Houston, Texas bluesman Sonny Boy Terry is now being recognized as one of Texas' – if not one of America's top harmonica players and devoted blues recording artists. But Terry wasn't always Sonny Boy and it didn't happen the way many would imagine. Born Terry Jerome in the unlikely place of Van Wert in northwest Ohio on the state line near Fort Wayne, Indiana, he picked up a harmonica as a teenager in the 1970s, mostly, he says, "because I wanted to jam with my friends, who played guitars". "I didn't know anything technically about music. I was just a huge music lover," he claims, "I didn't even know you needed more than one key of harmonica".

Jonn Del Toro Richardson
Blues Awards 2005, Memphis: Winner Blues Challenge with Blue Mercy,
Blues Awards 2005, Memphis: Winner Albert King Award for most promising Blues Guitar Player
Jonn Del Toro Richardson is a blues guitarist from Houston TX representing the strong defining sound of the Texas Blues. Inspired by his uncles he picked up the guitar in his early twenties and immediately started playing in the music scene around Houston. From starting his own bands to having the honor to play with many of the blues greats in Houston early in his career
Richardson's partnership with Diunna Greenleaf and his role in the Blue Mercy Blues Band and the support of the Blue Shoe Project in Dallas TX lead them to the International Blues Challenge in Memphis TN in 2005. In Memphis Diuna Greenleaf and Blue Mercy took the first place over 120 competing bands on Beale Street giving them recognition nationally and internationally playing amongst the greatest in the blues scene. At the same competition Richardson was honored with the Albert King Award, the most promising blue guitarist of the competition. This set a new standard for his level of playing and from there he has gone on to continue playing with blues greats such as, Hubert Sulim, Pinetop Perkins and Otis Taylor.

From Canada: Donnie Walsh & the Leatherbacks
Donnie Walsh "Mr. Downchild" has been called the 'father of Canadian blues' and with good reason. He is a blues pioneer on the Canadian scene. It was Walsh who paid the highest dues so that later Canadian blues acts, such as the Jeff Healey Band, the Colin James Band, the Powder Blues, Sue Foley, The Sidemen and The Highliners could also enjoy their success. The Canadian blues scene, which has blossomed nicely in the last few years, was relatively barren in the late 1960s when The Downchild Blues Band first started out. The Downchild Blues Band was formed in Toronto in the year 1969 and continues to perform today. It was co-founded by two brothers, Donnie ("Mr. Downchild") Walsh and Richard ("Hock") Walsh. Comedian Dan Aykroyd developed the Blues Brothers based on what he had seen in the Walsh brothers. Aykroyd modeled Elwood Blues on Donnie Walsh, while John Belushi's Jake Blues character was modeled on Hock Walsh

From Chicago: Steve Arvey
Steve Arvey started playing music seriously when he was 18 years old. While in college in Gainesville, Florida he met John Vilardo who was the first person he ever jammed with. At that same period he had a new roommate by the name of Ben Andrews. Ben was a country blues ragtime guitarist from Washington, DC. Ben turned him on to the great country bluesmen like Charley Patton, Robert Johnson, Bukka White, and Leadbelly just to name a few. When he first heard Leadbelly his whole life changed.
Ben was his first big influence into the blues. He showed Steve how to fingerpick and got him into playing bass. Another person from Gainesville and an early influence was Barrelhouse Chuck. Chuck had a large record collection and was playing in the Robert Hunter Blues Band. Robert Hunter was a blind saxophone player who had worked with Bobby "Blue" Bland in the sixties. Eventually Chuck moved out to Seattle and Ben and Steve formed another band to back up Robert Hunter. The same year Bo Diddley moved to Gainesville from New Mexico and the Robert Hunter Band ended up backing Bo Diddley.
Arvey eventually returned to Chicago, where he worked as a sideman on the Chicago Blues scene playing bass guitar, guitar, and drums behind such Blues Legends as Hubert Sumlin, Jimmy Rogers, Big Smokey Smothers, Homesick James, Andrew Brown, Lefty Dizz, Big Moose Walker, BB Big Voice Odum, Detroit Jr, Lovie Lee, Carey Bell, Big Jack Johnson, Sam Carr, Frank Frost, Lester Davenport. Eddie Taylor, Sam Lay, Eddie Clearwater, Sugar Blue, Abb Locke, Hip Linkchain, Sammy Lawhorn, Jr Wells, Sammy Fender and others.
Then Arvey formed a band called West Side Heat and Released his first Album. The band was very active between 1981-1991 and toured all over the world, sometimes backing up Notable blues artists. The Highlight of the Group was their Performance on The Crossroads Stage at the 1990 Chicago Blues Festival.
Other performers:
From Mexico: Los Santísimos Snorkels
From Canada: SAB & the Electric Storm
From Austin, Texas: Robbie Clark and the Live Wire Blues Band
From Costa Rica: Blues Devils, The Blind Pig Blues Band, Three for Blues, The Known Associates
——————————————
For more information: www.crbluesfest.com