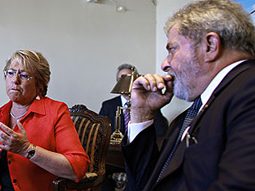 by TCRN Staff

"All the solidarity of the Brazilian people" is what the country's president, Luiz Inácio Lula da Silva offered Monday to Luiz Inácio Lula da Silva, during a brief visit to the country that saw a meeting with President Michelle Bachelet to discuss the immediate requirements facing the nation after the 8.8-degree earthquake that rocked the south-central area of Chile last Saturday.
"I came here to tell President Bachelet that Brazil was willing to put its full potential for solidarity. At these times we must be patient because there will be a real increase of the things they need, because we do not want to send things over here that are not necessary," said the head of state.
Lula made the remarks at the Group 10 of the Air Force, where he met with the president, noting that "Brazil will make every effort to ensure that the Chilean people suffer as little as possible, because Chile did not deserve a catastrophe like this, but as we have no control over the earth and it is God who determines such things so we must learn to live together and help one another. "
He added that Chile is well structured and therefore ready for earthquakes, but stressed that none experienced previously was equal and that the magnitude of the disaster is shown.
In turn Bachelet thanked the gesture of his Brazilian counterpart. "I want to thank President Lula who preferred to come here to talk to me about what was the most effective means to provide the support that Chile needed, along with bringing all his affection, solidarity and condolences to the victims."
"I think it is a gesture that honors him as president, a friend from Chile, as a friend of this President, I think the Chileans are very honored, very grateful to this president," he added.
The preliminary support of the Brazilian state is specified in the dispatch of four groups of rescue firefighters, the next will be sending a field hospital and several planes to help.