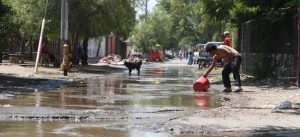 by TCRN Staff
While rescue effort still continue and thousands have been left homeless, Chile is beginning to recover as aid efforts are being organized and critical services restored.
SUPERMARKETS
Supermarkets confirmed yesterday that they have sufficient supply to meet the needs of the population and that only some locations remain closed.
Supermarkets Unimarc, 10 and OK Wholesale Market, said most of their locations are operating and that consumers are allowed to call for information on Freephone 800 510 101, to find the nearest operating store to their homes.
TELEPHONES
Telecommunications Undersecretary Pablo Bello, explained that in the Region of O'Higgins about 50% of normal radio base stations are operating, while 70% of fixed telephone services was functioning.
In the Maule, Bello said that only 15% of cellular antennas and half of the fixed network are operating properly functioning.
The metropolitan area recorded 80% coverage of the fixed network and with 70% of the antennas operational.
Meanwhile, the company announced that Entel is offering 20 minutes of free calls on any phone, plus 80 text messages.
The Association of Mobile Telephony, integrating Entel, Movistar and Claro, blamed the irregular supply of electricity for service problems throughout the metropolitan regions in the Araucania.
WATER AND POWER

Metropolitan Area
Andean Water reported that the situation has been normalized in almost the entire area although in Quilicura there are still ongoing problems due to the intermittent, erratic electrical service.
As of yesterday, the power supply should be restored to 70% the metropolitan area, reaching 1,380,000 customers.
Hardest-hit area
In the area hardest hit by the quake, efforts to provide power has been concentrated in hospitals, healthcare companies and institutions, public safety and emergency, according to a statement from the companies driving CGE, CGE Emelectric and Transmission.
"After the earthquake, emergency teams from the three companies and their contractors have been working day and night, in coordination with the emergency committees and regional and national authorities, to restore service in the shortest time possible" , says the paper.
The transmission companies indicated that they have restored energy to the high and medium voltage lines to nearly half of Talca, Linares and Curico, but they are unlikely to restore the outlying cities of Parral, Cauquenes and Constitution for some time. However, they have established a generator for a potable water plant, to provide a minimum supply of the vital element, while Talca continued with a reduced water flow which is only available in some areas.