The Costa Rica News (TCRN) – Our boat quickly found its synchronicity with the water, rising with the wave's curling crescent, then dipping down into the trough.  I felt the sun on my right cheek, right arm, right thigh, the rest protected by the shade of a large awning.  Drake Bay, a cove in the Osa Peninsula in southeastern Costa Rica, gradually disappeared behind me.  The sky's palest shade of blue, its azure, melted into the ocean's navy, lapis lazuli turquoise.  Interminable amounts of brilliant blue caused me to marvel at the fact that the color is synonymous with sadness.  Among these blue waters live what all eyes on the boat were searching for: dolphins.
An hour and a half into the tour, enveloped by the Pacific Ocean, I felt a solitude, even while surrounded by people.  It's been said that one can feel the most alone while in a crowd.  I wasn't alone; rather I was acknowledging the singularity of my experience.  Suddenly, to my right, I saw a small splash.  Everyone became alert, having been lulled into relaxation or contemplation by the rhythm of the boat, and the cool breeze battling the competing sun.  Camera ready, there was another leap from the water, and another, and then three at a time, the elegant choreography of a ballet performed around us by a large pod of spotted dolphins.  Cameras clicked and cheers were emitted when one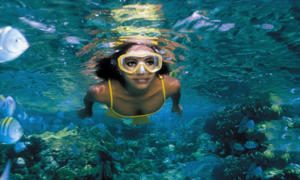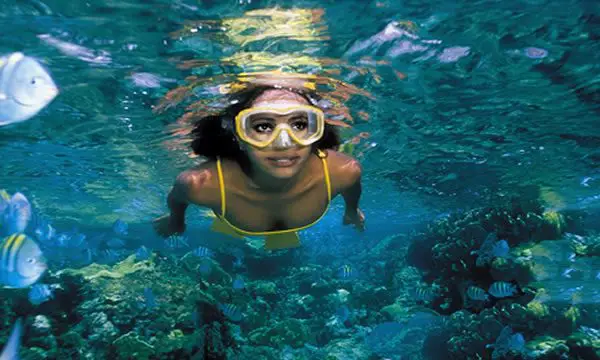 executed a particularly impressive gran jete.  According to the owner of Divine Dolphin Tours, Sierra, we were among more than three hundred of these magnificent animals.  For over an hour, the dance of the dolphins continued until play time was over, and the search for food began.
Once they had dispersed, and the wild water was again calm, we put on snorkeling equipment and slid into the cool sea.  As soon as I submerged my head, all went silent save the sound of my own steady breathing.  The silence was as exquisite as the solitude.  Fish scales veiled me in sparkle, like I was the figurine in an ocean themed glitter globe.  I saw beneath me, a huge cluster of fish, technically called a "bait ball", as they are food for larger animals, but I decided to rename it a, "swarming school of sardines".  As I continued paddling my fins, a manta ray gently flapped its wings and swished its tail, gliding by without the least interest in my existence.  I, however, was entranced, and watched the fascinating creature until its descent into the depths below made it too difficult to make out a form.
Several hours and several hundred pictures later, the time came to make the long journey home.  We stopped once, to visit with two sea turtles who had been spotted by the boat's captain.  We carefully approached, and their mottled shells became visible, heads peeping inquisitively out of the water.  Then, we watched as the paddle-shaped front flippers gracefully propelled them elsewhere.  As the boat once again found its rhythm with the waves, two bottle-nosed dolphins vaulted into the air while other members of the pod swam in front of the boat.  They were travelers, perhaps guides as well, leading us to shore.  We were lucky, Sierra told us.  It was a plentiful day.  Not only had we seen so many, but two varieties of the dolphin species.
Days like this could be numbered. During the tour, she and two researchers had been tracking numbers, coordinates, and the species of dolphin.  As our group delighted in the friendly, playful animals, their Costa Rican Marine Biologist and a volunteer had been taking detailed, copious notes.  Marine animal numbers are in drastic decline these days, dolphins and sea turtles both lost to commercial fishing.  Long lines, shrimp boats, and tuna boats cast their far-reaching nets and lines and crowd the waters with fishing gear.  In this process, they catch the intended sea life, but also entrap whales, dolphins, sea turtles and countless other sea life.  Whales typically have strength enough to break through the encumbrances, although a dead baby Humpback washed up to the Osa shores last year, dead from a line still tied around it's tail, but the dolphins' and turtles' struggles are fruitless.  They slowly drown.  As the numbers rapidly drop, research becomes more and more paramount to demonstrate the need to create a marine protected area (MPA), freeing these animals from unnatural dangers.  Partnership with The Centre for Cetacean Research CEIC – Costa Rica, based in Golfo Dulce and grants from international organization Whale and Dolphin Conservation – WDC http://us.whales.org:80/) and Costa Rica's, MarViva http://www.marviva.net/index.php/es/) assist in this effort, but more help is needed to support the marine biologists and other researchers working diligently to protect that which is, indeed, divine.
Visit the Divine Dolphin's campaign site, MPA for Osa at http://www.mpaforosa.com to take action by signing our online petition and/or support their work by going on one of their research tours, which can be booked through http://www.divinedolphin.com.
By Elizabeth Dickinson
Photos from Divine Dolphin Tours
[gravityform id="1″ name="Contact Form" title="false"]
The Costa Rica News (TCRN)
San Jose, Costa Rica