According to a recent study entitled "Profile of Digital Animation in Costa Rica", carried out by the Foreign Trade Promoter (PROCOMER), this sector shows a strong orientation towards the export of its services, since 42% of the companies that comprise it they make sales abroad and 40% of their total income comes from the exports they do.
The United States, Canada, Mexico, and the United Kingdom stand out as the main markets for the sale of their productions; the list is completed with another 18 countries. Companies with experiences in co-production of digital animation with partners in Ireland, Denmark, Czech Republic, Uruguay, and Colombia are also identified, as well as distributors of world-class content such as Disney, Cartoon Network, Discovery, and DreamWorks TV.
TIP: Get our latest content by joining our newsletter. Don't miss out on news that matter in Costa Rica. Click here.
The global digital animation market has a value of US$ 270 billion (2018) and an average growth of 4% is projected for 2022, where streaming, the demand for visual effects in the film industry, and greater access to content by the child population, they represent the main dynamizers.
The analysis also highlighted that in our country this sector is made up of more than 62 animation studios and specialized companies, with an offer integrated by more than 30 different services, with a wide participation of 2D and 3D animation, as well as technical rigging, illustration, 3D modeling and motion graphics, among others. These services are developed both for productions in the advertising area and also for the creation of intellectual property (series and short films, mainly).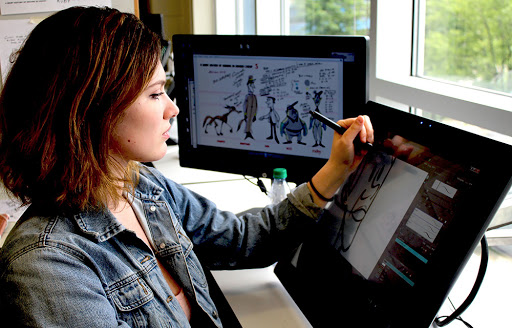 In 2016, the audiovisual industry generated 0.4% of our country's gross domestic product (GDP), where digital animation accounted for 1% within this category, that is, about US$ 2.8 million in terms of added value of GDP, with an annual growth of 13.3% on average during the last 5 years.
"Although it is still a small sector in our country, it generates more than 500 direct jobs. Its structures are moderate, since they range from 2 to 25 employees and the majority (65%) started operations 7 years ago or less, while 9% have extensive experience in the market (15 years or more). This shows us that it is a dynamic sector with the potential to grow if we continue supporting you in the challenges and strengths that lie ahead", said Marta Esquivel, Director of Commercial Intelligence at PROCOMER.
Some of these challenges that Esquivel mentions are the limited supply of competitive public funds, the absence of international co-production agreements, limited spaces for the integration of the sector and a low positioning of the creative resource in some markets.
However, these challenges coexist with elements of differentiation that provide value and competitiveness to the sector, including a specialized human resource, complimentary services appreciated internationally (dubbing, vocals, sound editing, etc.), and openness for development of international co-production by the Costa Rican companies, item in which positive experiences have already been generated (33% of the sector has co-produced and 68% have open projects and ideas).