Every human being has a story, of course, all of them with their touch, their essence, and particularity, there are many of them that we want to share, to tell the world because, in one way or another, they leave lessons, feelings of pride to the readers and good knowledge.
Alejandro Martinez told us his story with his achievements, his sorrows, and plans, in which he has Costa Rica in mind because for more than 2 decades he has lived in other countries.
He is a talented chef and a Tico who, without Costa Rica not having an army, is part of Canada, the country where he raised a family.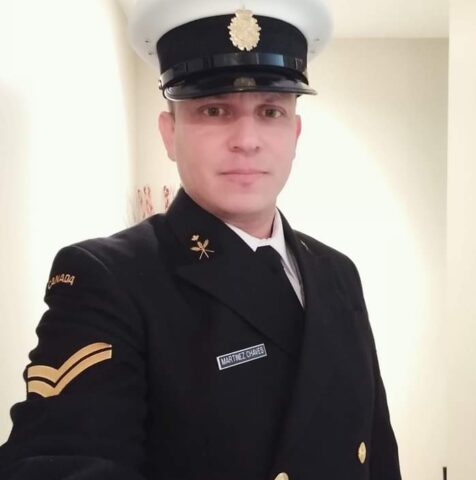 From Puntarenas to Panama; from Panama to Canada
Alejandro is from the El Carmen neighborhood of Puntarenas, Costa Rica. Of his childhood, he made special emphasis on his parents "the biggest influence in his life", with whom he had a very close relationship, for him, the best and most special on the planet.
He, his siblings, and friends, in the first 12 years of life spent a lot of time playing in a fire station near his house, where they imagined being firemen, because he has always been inspired by that profession. He also recalled those soccer and beach days.
After finishing high school at the Montserrat School in Puntarenas, he studied Business Administration at the Universidad Hispanoamericana de Costa Rica, on several campuses: Puntarenas, San José, and Heredia. After graduating he went to Panama to help his mother with a restaurant on the beach.
It should be noted that since he was a child he has always enjoyed cooking. "Supervised by my mother, who although not a chef, has always cooked very well, my maternal grandmother cooked few but delicious dishes. My parents had a restaurant and since I liked to cook, when I was almost an adult I started to put my hands in the kitchen, which was very satisfying for me because there I was learning from a real chef. That inspired me a lot and formed me regarding the basics".
Nowadays, Alejandro Martínez considers that it is a mystery to a person who likes to eat and not cook. "My greatest inspiration was my mother and the TV programs, especially that of Italian-Canadian chef David Rocco".
Living in Costa Rica, she helped her parents in the kitchen; when she moved to Panama, she also helped her mother. In Canada, his first jobs were in restaurants and he also decided to study Food Processing and Care, which in his opinion is not a direct job in the kitchen.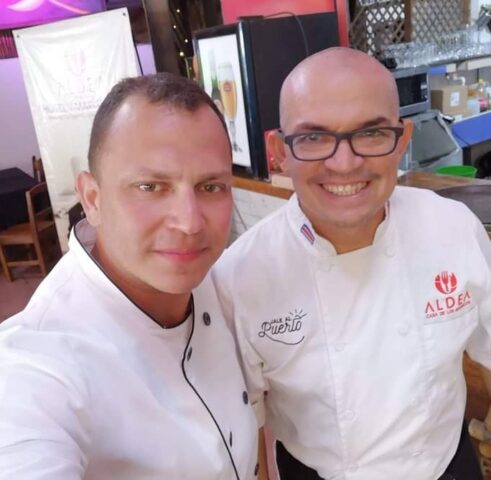 What brought him to Canada? In the restaurant in Panama, he met Canadians who invited him to come to Canada; "at that time we Costa Ricans did not need a visa to come to Canada, so I came to walk to the house of some of the people who invited me and I met Sandi, who is now my wife. After a while I decided to stay, we got married and we have 3 children, it is a long story to tell, all this has been very satisfying with a lot of sacrifice too. A good life, Canada is a beautiful country with many opportunities" said Alejandro.
He had in his plans to return to Costa Rica or in any case to Panama, but he fell in love with his wife 20 years ago.
Do you plan to return to Costa Rica someday?
For now, he only plans to come to Costa Rica as a tourist, "That doesn't mean that I don't love it. In the future I see myself, I hope to God, full of grandchildren. I try to go to Costa Rica every year or every two years, I plan to continue doing so until the day I retire, which is my dream; I see myself with my wife and children, cooking for my grandchildren" he added.
What inspires you about Costa Rica?
Alejandro regarding what inspires him about the Central American country, mainly the quality of the people, the love, the family, the friends, Puntarenas, "It inspires me to move forward, to try to reach one day the goal of retiring there and go back to my country, that is a great inspiration; I tell my children a lot about the life of my brothers, what my parents forged in us, that Latin way we have there, which is wonderful" he emphasized.
There is an important aspect that we talked about with Alejandro Martinez and it is about the difficult moments and how he has faced them, for these are the special dates, that although he has his wife and children with him and they are the focus of life, all the rest his siblings and mom are in Costa Rica. "The other difficult moments have been the deaths of my grandmothers because I was here in Canada; and the death of my dad (the strongest pain I have suffered), I knew he was sick but I could not be with him in his last moments. How did I face it? With the love of my children and wife, I went to Costa Rica 3 days after his death, I was with my mom and my siblings".
Tico in the Canadian Army
About how Alejandro came to the Canadian military world, he comes from the short time he was a volunteer firefighter in Puntarenas. In his opinion, the discipline helped to give me a little guide to what it would be like here in Canada to be in the military, providing a service to the community.
He was always inspired by military discipline, and an uncle who was in the U.S. Air Force, "I always thought about being part of the military but Costa Rica did not have one, so according to what I saw with my uncle every time I visited him, he left me a lot, my time with the firefighters and social service".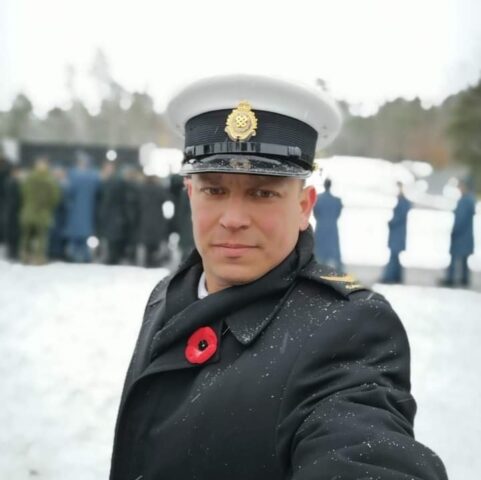 When he entered the military, he did a few years as an infantryman and then asked to transfer to the navy, where he attended the Canadian Armed Forces Culinary Arts school it was there that he studied cooking, "although I had already been cooking with a Catering from home for small special events and things like that that I always liked to do, but that's when I started training professionally."
In their military base, they always have to keep studying, and updating themselves to receive new courses later on, either in management, although they follow the military format and have to keep training as sailors, because in the end that is what they are. His specialty is in the kitchen, and he has to continue taking courses.
Martinez said that the experience in the army has been hard and at the same time very nice. He has great friends inside because he spent 4 years with the army where he was a corporal -the highest rank he obtained-, then in the navy today his rank is Marine First Class, and he continues to prepare himself to move up in rank.
Thanks to the Navy, he has been able to see much of Canada, and he travels a lot. "The way of life is different, many call us crazy because we don't fit into everyone's way of thinking, but it's something unique, hard like everything else but it has its good moments. I see it as a job and a lifestyle," he emphasized.
He also explained that he is from the marine reserve, but not full-time, "my full-time job is in a food processing company that processes sausages, chorizos, salamis, and hams, where I do food control and safety. On Tuesday nights, I serve in the marina, some weekends depending on the season I spend the whole weekend or sometimes only on Saturdays".
His experience as a chef and achievements in Canada
In Canada, he has participated in competitions in which he has been invited to participate. In a very elitist city in Canada, he was a guest chef from time to time, the tico Alejandro, he organized his menu in a restaurant of that type where people go with reservation and the bloggers make their reviews, from he was invited to participate in the Top Chef KW Canada, in which he lost by one point.
He also does personal chef services; about the videos on the Facebook page Yo Amo Puntatenas in which he appears cooking, the Costa Rican chef said that it all started when he was just in Covid:
"On one occasion I went to Costa Rica and a great friend of mine, chef Koka from Puntarenas, from a local restaurant, we did a live show on the Yo Amo Puntarenas page at the lighthouse, we cooked paella with a lot of people and that's where everything started with the videos. Then my chef friend, who is also friends with the person in charge of the Puntarenas page, suggested that we make a video on any given day, Koka from his restaurant and me from here through Facebook, we did it, we liked it a lot and I had to continue alone because Koka was busy with his restaurant and well, then he gave it a title and made it more formal, so I continue every Friday at 6 pm on Yo Amo Puntarenas".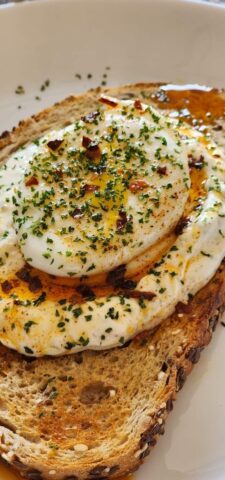 The only difficult thing about the videos in Alejandro's opinion, is that when fall enters and until spring he travels a lot with the navy all over Canada, and since he has created a good reputation and followers like his style of cooking, he gets called to cook for training on bases and boats, and so he stays busy; "my limitation is in that season (between September and February) to do the broadcasts on Fridays, I can't always do the videos, I might do -if I travel- one or two a month".
On Sundays through his Facebook account: Alejandro J Martinez, informally publishes the breakfasts he makes for his children and everything he invents.
Alejandro is a husband and father who defines himself as normal, he loves to be at home and if he goes out, he does it with his family. He does not go out to drink in bars, he drinks very little liquor. He is one of those friendly guys up to certain limits, he is not characterized by being aggressive or disrespectful, "I want to be a good role model for my children, knowing that I am not perfect. I like to watch war documentaries, history, soccer, and of course cooking, I do a lot of sports, and I love the gym. I have a dog named Alvin, my best friend, and two cats".
Social Work in his country
Together with his sons and their Soccer Club, we have collected and taken to Costa Rica more than 400 pairs of soccer shoes and sports equipment including uniforms, training equipment, tennis bags, as well as running equipment, to provide support to poor children in Puntarenas and also to ex-football player Michael Umaña, who has helped them to locate people in the area where he lives, it is a project for the most needy areas.
Finally, Alejandro Martinez, Costa Rican chef and member of the Canadian army, expressed a message for everyone: "Cook, eat, try everything, new flavors of the world, take advantage of Youtube, modify recipes; look for a way to serve society within your capabilities. Enjoy the necessary time with your families and friends, enjoy today. Regarding my country, much encouragement".
We are pleased to tell you the story of Alejandro, a tico Pura Vida.
If you want to know much more about Alejandro and his incredible food you can find him and follow him on his Facebook account as: Alejandro J Martínez and on Instagram as: @chef_lulo_martinez.