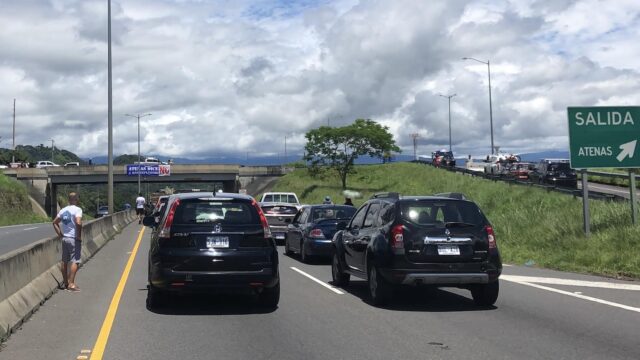 As of the beginning this week, 57 points in different parts of the country remain blocked by around 3000 people, also, 38 places maintain intermittent passage, reported the Police Force.
El Coyol (Alajuela), El Entronque (Palmares), San Ramón, Universidad Nacional (Heredia), Paquera, El Estero bridge (Quepos), Loma Verde (Pérez Zeledón), Puesto 1, Ceibo (Buenos Aires), Dominical bridge (Barú ), Rio Térraba, Altamira crossing (Aguas Zarcas), bridge over the Peñas Blancas river, Reventazón river (Route 32), Pacuare (Siquirres), Upala centro, Chirripo river (Route 32), Y Griega, Chilamate, Sarapiquí bridge, are among the routes affected by the blockages.
TIP: Get our latest content by joining our newsletter. Don't miss out on news that matter in Costa Rica. Click here.
Detentions
From October 1 to date, a total of 15 people have been detained for obstruction, resistance, and assault with a weapon, the Ministry of Public Security reported after detailing that the subjects were placed under the orders of the judicial system.
The arrests have taken place in the provinces of Puntarenas and Limón where there have been reports of attacks on officers of the Police Force, damage to the police, transport and personal vehicles, as well as blockades of national routes, among others.
The Minister of Public Security, Michael Soto, recalled that citizens have the right to demonstrate peacefully but that acting violent and criminal in protests is not justified.
The government of the Republic reiterates the call for dialogue, lifting the demonstrations and urges to open the roads of the country to allow the free right of transit for citizens, the commercial flow of export, import, supply products, and first response vehicles of emergency.