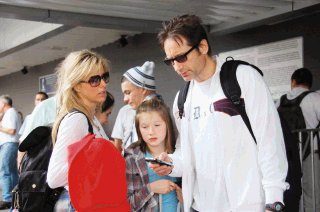 By TCRN Staff
Hollywood actors David Duchovny (star of the series X-Files) and Tea Leoni (Deep Impact and Spanglish) arrived in the country yesterday, at 3 pm, from Miami, USA.
The celebrity couple arrived at the Juan Santamaria International Airport, along with their two children Madeleine West (10) and Kydd Miller (7 years).
Duchovny, who became famous for his role as Agent Fox Mulder on the television series X-Files and then in later film roles, left the airport at about 3:15 pm as just another traveler, but was easily spotted.
The vast majority of those present were overly shocked by the presence of the Americans, who wore jeans, white clothes and dark glasses.
Duchovny and Leoni themselves loaded their luggage, which did not exceed five suitcases.
On his arrival in Alajuela, the actors were elusive and did not want to provide statements or greet those who, little by little, recognized them. However, before boarding a tour bus, which had no special identification, Duchovny agreed to have a picture taken with an airport worker.
Less than five minutes after appearing on the passenger arrival gate, the famous family got in the truck, which must be a record in any airport.
Duchovny and Leoni got married in 1997 and, despite some problems and even rumors of divorce, have remained united as one of the most stable couples in the film Mecca.